Last year I knit my one and only
lace shawl
, which I absolutely love, but up until today it sat folded in a drawer because I couldn't figure out how to arrange it in a way that didn't look silly. Today while getting ready to attend a knitting class at my local yarn shop, I threw it on at the last minute and secured it with the new shawl pin a friend gave me for Christmas. I was surprised and pleased to see that it was a perfect match with the shawl and actually looked nice held together like that around my neck. Thanks, Cathy!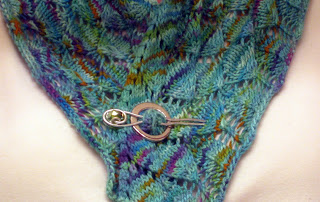 (
bathroom mirror photo
)

I had a scare later in the afternoon. When I got home from the grocery store my purse was missing and I thought I had left it in the cart in the parking lot. When I started thinking about everything I could lose, I quickly grew horrified ... my new Kindle (that I LOVE), phone, digital camera, medication, cash, credit cards ... oh my goodness, it would have been a terrible loss. I rushed out to the car and fortunately found it hidden under the seat. Then I said a million prayers of thanks.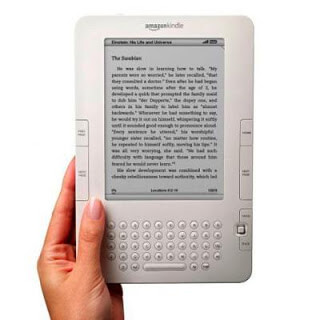 The Kindle was a holiday gift to myself. While I love reading books on it, the thing that really has me hooked is the electronic Scrabble game. It's addictive.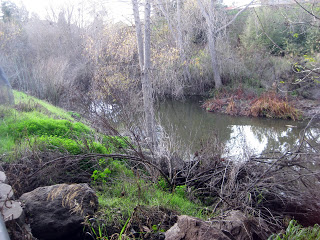 The creek trail across the street from where I live is beautiful this time of year with bare trees and intensely green grass. I love to take walks and enjoy having a trail within walking distance of my apartment.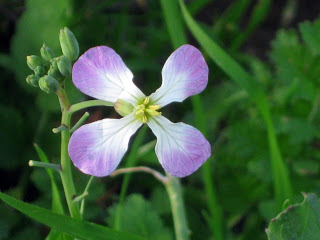 On a recent walk I came across one tiny, lonely little flower and had to stop to get a picture.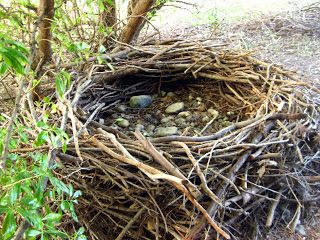 I also discovered this giant nest partially hidden under a bush. It's about two feet tall and four feet across. I have no idea how it got there or what might live in it, but would love to know the story behind it.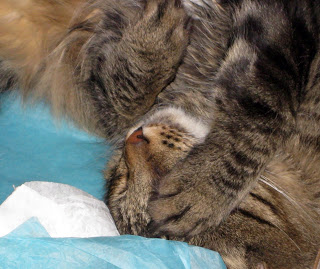 Charlie is the sweetest cat I've ever met. In our old place I used to walk him on a leash in the evening, but my new apartment is inside a building so I let him freely roam the hallway late at night. Tonight when he was sitting outside the front door I was stunned to hear him
growl
. Like a dog! A neighbor had entered the hallway and I guess he was protecting his territory. It was strange-- I never knew cats could growl like that.
Well, off to bed. Warm wishes to you for a good week.