I've been a busy girl. I'm participating in a craft fair next week, so I've been spending my evenings knitting these little flowers to sell.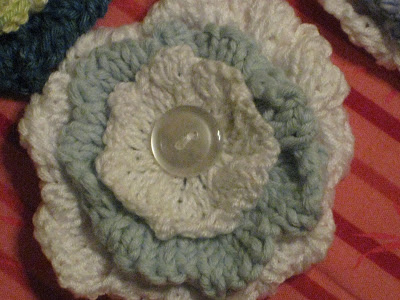 I'm still trying to decide whether to sell them as is, attach pins to the back, or sew them to tote bags and hats.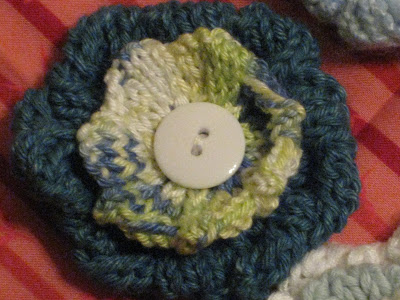 I was inspired to knit these by Lucy at Attic24 and Sumea at skipping in the meadow . They both crochet the most lovely flowers, and I wanted to get in on the action. Have you met Sumea yet? If you haven't, you are in a for quite a treat.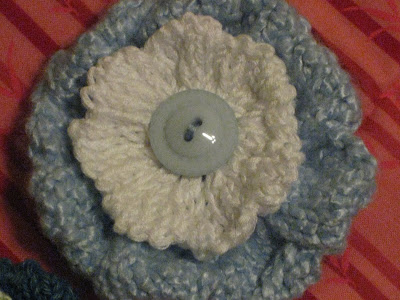 I'm also knitting eyelet wash cloths to sell. They're so soft and comfortable, both to knit and to use. I'm using Mission Falls 1824 cotton.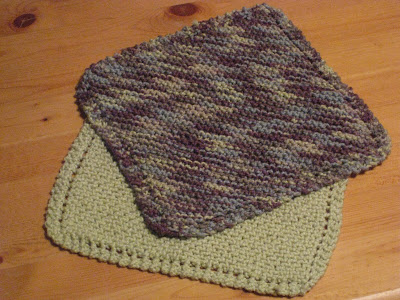 They're knit

diagonally

, starting with four stitches on the needle. I want to share the pattern, but I'm conflicted. I originally found the pattern in a book, but I think it's a classic that has been around forever. I changed the pattern slightly from how it is presented in the book, but I still have this nagging sense that it's not quite right to post it. I'm going to think about it some more.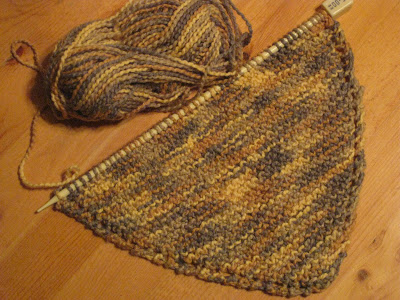 Yesterday was the last day of a big project at work. I celebrated by treating myself to these vases at Crate & Barrel. Oh, they look so cute in my apartment. They go perfectly on one of the little tables I bought at the secondhand store.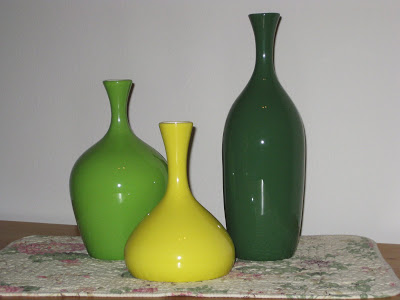 I also treated myself to dessert at a bakery called
Kara's Cupcakes
. My little sister told me a few months ago she is going to serve these cupcakes at her wedding instead of a traditional cake, and I've been wanting to try them ever since. This one is lemon. It was okay, but my favorite is chocolate peanut butter.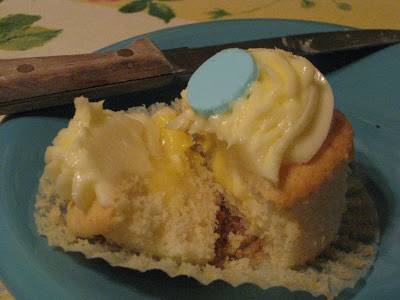 I've been looking for a rug for my living room, and finally found one at Goodwill on my lunch hour yesterday. I was a bit nervous about buying it because there are no refunds and I wasn't sure if it was the right size or pattern, but decided to take a chance. When I got home, I was stunned to discover that it's a perfect fit and the colors look great. Charlie approves, too!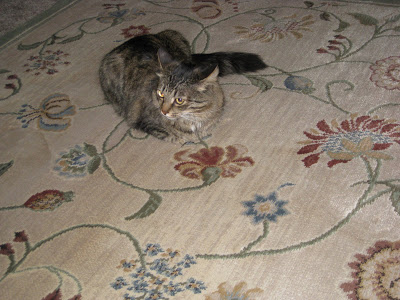 Does it seem like I'm boasting a bit about all of my perfect finds for my new apartment? If I am, it's because normally I'm not very good at decorating or finding bargains, but lately I seem to be on a roll and it's such a kick. For the first time in years I have a sense of what I like and how I want my place to look, and I'm truly enjoying creating a home that I feel connected to and proud of. It's kind of a big deal after years and years of living in a tiny studio. And I really have to thank all of the blogs that I visit for inspiring me, giving me ideas, and helping me see that it's okay to surround yourself with color.

Hope you have a wonderful weekend.