I woke up feeling so happy this morning. I'm working from home today, the sun is shining and I have all sorts of cute stuff to show you.
Started the day with a

delicious

, wholesome breakfast.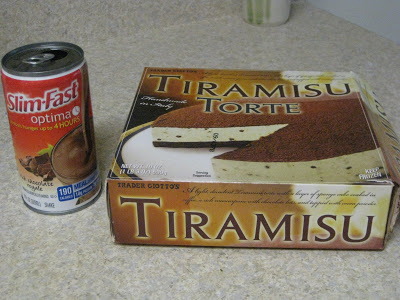 Went for a little walk with my camera.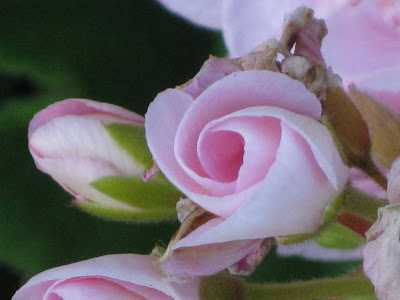 These are the beaded bracelets I got at the art show on Saturday. I rarely wear

jewelry

because it feels uncomfortable on my body (I am incredibly

sensitive

to fabric, too, and can only wear super soft clothes). Fortunately, these bracelets are generously sized, so they aren't too tight on my wrists. Sometimes bracelets can feel like shackles. (Yes, I'm weird.)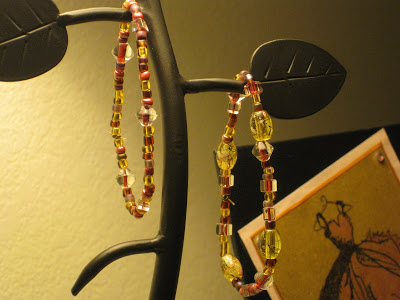 And these are the fabric bags I bought from Claudia Aden at the art show. To read more about where she gets this free designer fabric (yes, free!), check out

Fabmo

.org. I'm trying to get a link to more photos of her bags online, but in the meantime if you would like to contact her, she can be reached at bag_lady_2009@yahoo.com.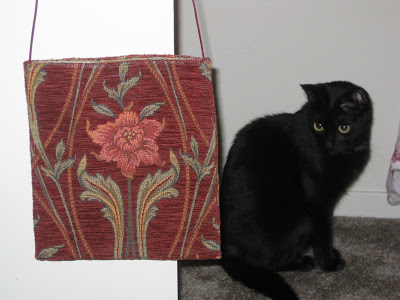 I know I said this already, but I adore fabric bags. Oh, who am I kidding? I have a thing for bags, period. If I won the lottery I'd have a closet full of Coach purses.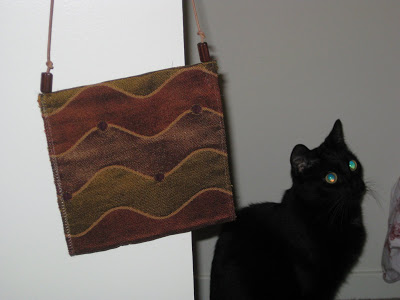 My little sister found a new use for my knit flowers.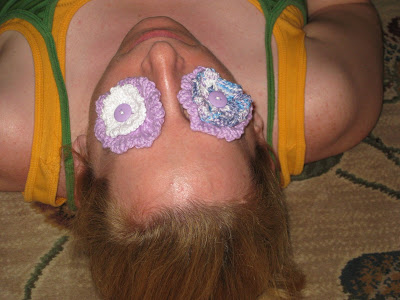 This painting is by my older sister, Feltypants . It's a painting of a photograph of the two of us in the kiddie pool at our Grandmother's house many, many years ago (I'm the one in middle in the blue bikini top). I have great memories of that pool, and of swimming in general as a kid. I used to pretend to be a mermaid. I still love to swim and have a nice pool in my apartment complex, but don't want my neighbors to see me in my bathing suit. Maybe this summer I'll get over that fear.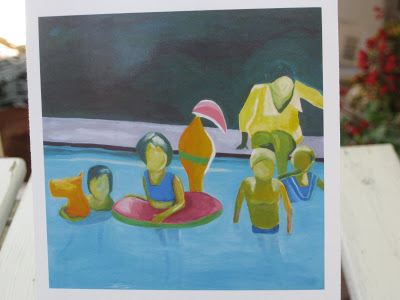 My bedroom gets the afternoon sun, and the cats take full advantage of it. Here's sleepy Charlie, complete with pillow hair.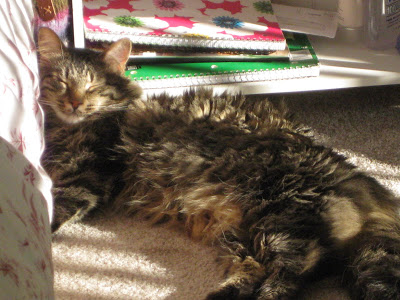 And here he is trying to join his mama in a little Slim Fast breakfast. I keep telling him he's perfect the way he is and doesn't need to lose weight, but he has kitten body image issues. Maybe I should cancel his subscription to Cat Fancy magazine.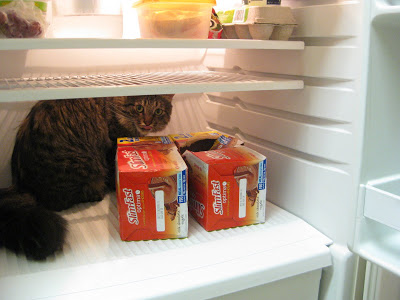 Hope you're having a great day.