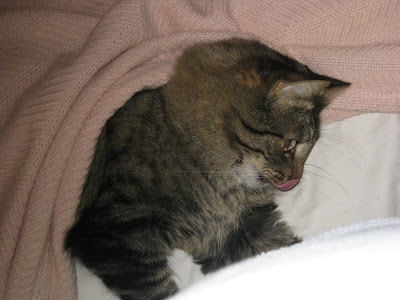 Isn't this guy cute? Charlie is a bit spoiled (okay, very spoiled), but so handsome and loving that he can get away with it.
Charlie is my first cat. I had a dog for almost twenty years, and when she died it took a few years of grieving until I was ready for a new pet. My apartment complex didn't allow dogs, and I'd never had a cat and didn't think I wanted one, so I got two female dwarf hamsters. They promptly had eight babies. It took a couple years, but after the last hamster passed away, I started yearning for a more substantive pet, one I could cuddle and bond with.
I reluctantly decided to get a cat. I knew it would have to be a rescue and started looking online at pictures posted by shelters, but something told me to wait, that my cat would show up when the time was right. One hot Saturday in July, I felt this strange little internal nudge to go to Alviso, a nearby town with a slough where I like to birdwatch. I didn't want to go there on that particular day, but kept feeling the nudge, so I went.
When I arrived, there was a tiny little skeletal kitten standing in the middle of the street looking like it might be his last day on earth. One eye was swollen and infected, his whiskers were singed, and his fur was so tangled it seemed to be standing on end. I felt bad for the kitten as I carefully drove past him because it was obvious he wouldn't be around much longer.

He looked the way Bill the Cat probably did at six weeks old.
About a half hour later I started wondering if he was my kitten. I went back to where I saw him, and sure enough he was still standing in the middle of the road. I decided if he would let me pick him up and take him, that meant he was mine. As I got out of the car he started to run away, but then suddenly laid down and showed me his belly. I scooped him up, got him some wet food and water, and took him to the animal emergency hospital. They told me not to get too attached to him because he might not make it.
Now he is a healthy, gigantic cat who loves to snuggle and play and chat. I call him the Kissing Bandit because he sometimes wakes me up in the middle of the night with face kisses.


I had to laugh when I saw him in this pose this morning because I woke up with a headache and it looked like he had one, too.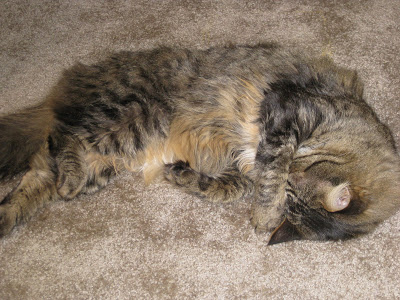 We're simpatico.