Trying to escape from the oppressive heat earlier this week, I took a trip to the beach. Capitola is about a forty minute drive from my home on a good day when there aren't snarls of traffic heading toward the coast.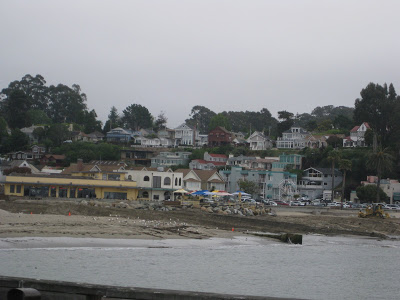 And I did escape the heat. It was FREEZING! And me in shorts. Ah well, I managed to enjoy myself immensely in spite of the bone-chilling wind.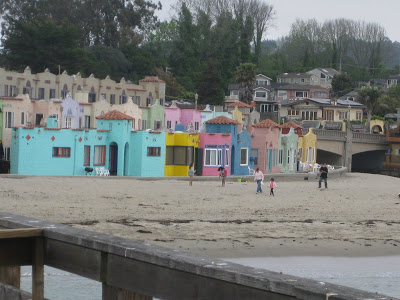 On the drive there I promised myself repeatedly that I wouldn't spend much money. Ha ha. That didn't quite work out.



First stop, yarn shop. Yum. I picked up this Sirdar yarn and have already started making my umpteenth feather and fan scarf.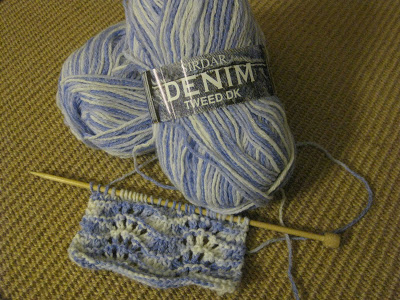 Second stop, antique store. I bought all sorts of goodies for making collages and handmade books. Oh, that place was heavenly. This is just a taste of what I bought.
Antique needle books with needles inside.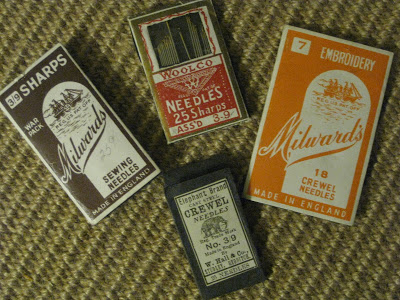 Zippered pouches made from vintage dish cloths. I certainly don't need three of these, but I couldn't choose which one I wanted so the owner gave me a deal. I might give one or more away in a giveaway some day.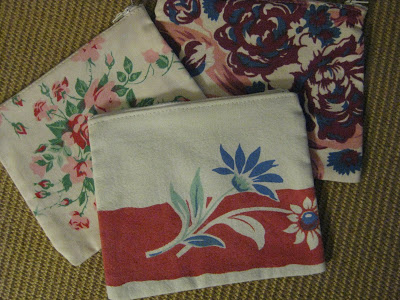 Little envelopes made from vintage dish cloths. Perfect size for credit cards, gift cards, or business cards. I think the reason I like this fabric so much is it reminds me of the dishtowels we had when I was a kid.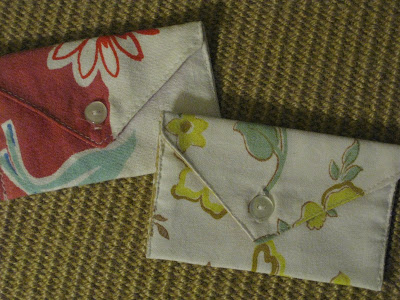 Sewing machine trading cards. I'd never heard of these, but had to have them. They would make cute covers for handmade books, or as pieces of a larger collage.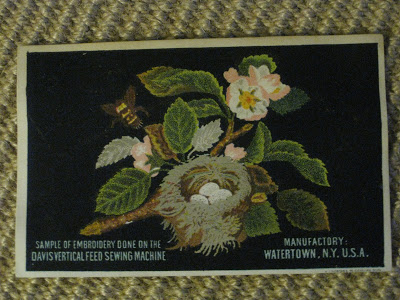 I also bought antique postcards and a clock, as well as game prizes for my sister's upcoming bridal shower. So as not to overwhelm or bore you, in a few days I'll post pictures of the cute little seaside town of Capitola and the foggy, picturesque coastline.
Melanie at
A Country Dream
gave me an award! She really gave it to me-- I didn't have to steal it.
Thank you, Melanie! I'm so happy. I love awards. But I have reservations about passing them along to other bloggers. One, I've noticed some people don't like to receive them, and I don't want to annoy anyone with an unwanted award. Two, some people receive TONS of them and I feel a bit silly giving someone their fourteenth lovely blog award. Three, I like so many blogs that I feel bad giving awards to some people and not to others.
That said, I'm going to pass along this award to a few bloggers I adore. I am doing this with absolutely no strings attached-- no need to publicly thank or link to me, no need to pass it on, no need to do anything-- unless you want to.
-Sumea at skipping in the the meadow for her enthusiasm and loving nature. Her sparkly energy radiates from her blog. (Sumea, I know you already received this award recently, but yes I am giving you another one.)
-Emma at Little Brown Rabbit for her whimsical creations and for sharing passages from the writings of Eckhart Tolle.