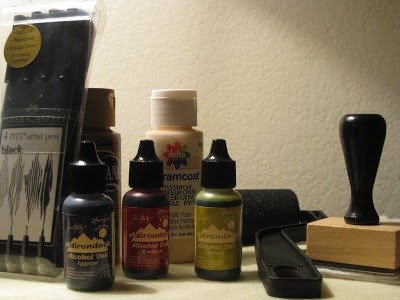 Inspired by my new art books and this
post
on

Woollywotnots

, I treated myself to new art supplies this week. I've been wanting to try Pitt artist pens for some time now, and I also picked up alcohol inks, a

brayer

, and new acrylic paints in neutral colors.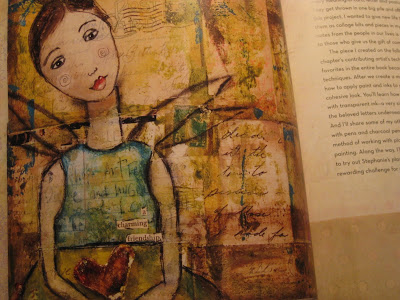 The alcohol inks are for making splotchy, transparent backgrounds on collages like this one in the book Taking Flight by Kellie Rae Roberts. She offers detailed instructions with photos. I love how it looks.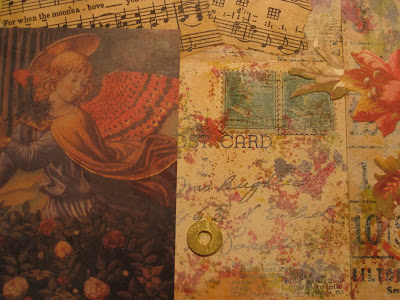 My background didn't quite turn out like the one in the book. Well, not at all! I didn't attempt to draw the figure (that's way out of my league), but I did want my splotches to look like Kellie's. I used a bit too much red and didn't apply the inks correctly to the collage.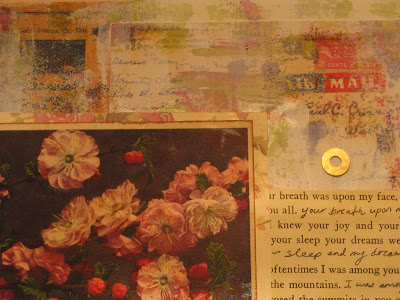 That's okay, I'll keep trying. I think I have a sense of how to do it better next time. (Step one: follow the instructions!)
It was warm here today, as expected, and I took an evening dip in the pool at my apartment complex. Oh, it felt so good. I love to swim, but rarely do it because the pool gets so crowded. But this evening I had it all to myself and it was heavenly.
Hope you are having a relaxing weekend.