On the weekends I'm sometimes torn between staying home and going out and doing something. I love being home with my cats and books and knitting, and I dislike traffic tremendously, especially after commuting all week. But there is this nagging sense of "It's the weekend, I should get out."
Last weekend when this little inner conflict came up, I thought about what I learned when I made my flower collage-- that you can move without knowing exactly what you're going to do next or why. I ended up having such a fun day.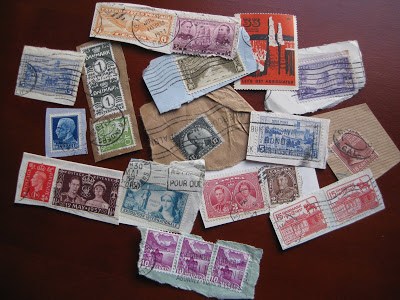 I drove about an hour to the little mountain town of Boulder Creek and went to one of my favorite antique shops. I hadn't been there since I developed a love for old papers to use in collages, so it was quite fun exploring the huge shop looking for books and maps and postcards. I found a whole bunch of old stamps.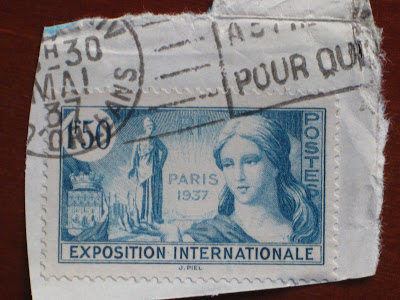 I looked for antique French maps, but didn't find any. I did pick up this Paris stamp.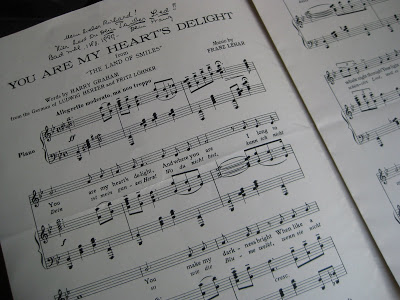 Also bought some sheet music from the 1920's and '30's.


I want to remove the pages from these books and use the hardback covers to make my own altered book. I started using a few pages for a new collage.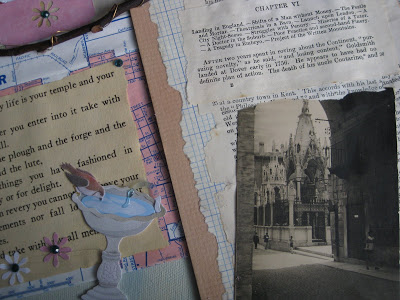 This trading stamp book reminds me of when I was a kid and we would collect them to get merchandise. Does anyone else remember that?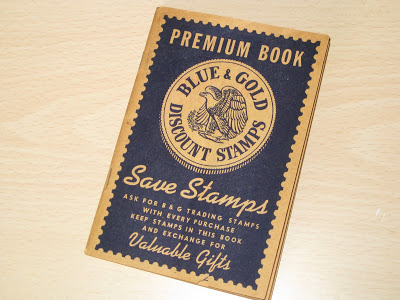 Also found a couple of postcards.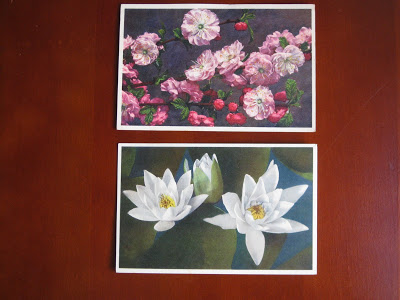 After the antique store I got a burrito at the organic grocery store and went to Henry Cowell Redwoods State Park for an early dinner and a walk. I was surprised to discover the fee to enter state parks has gone up to ten dollars! California has had big-time money troubles in recent years. I'd rather pay the higher fee than see them close the parks.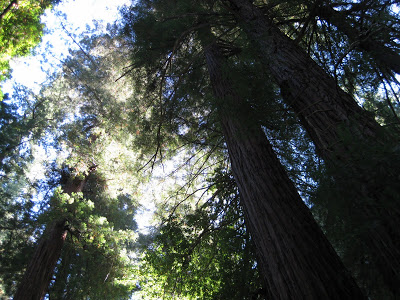 Henry Cowell has a grove of old growth redwoods that are absolutely gigantic. I love to walk slowly through the grove and drink them in. The woodsy smell reminds me of family day trips to the mountains when I was young.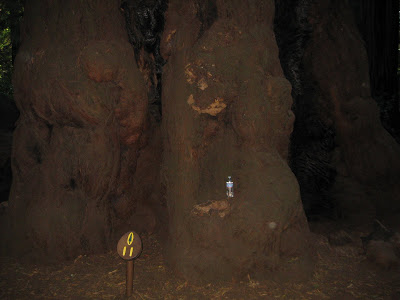 This picture is a little dark, but I wanted to show you how massive the redwood trees are. I put my water bottle on it so you can get an idea. Huge!

With the weekend just around the corner, the internal debate about what to do is starting. I'll have to try again to let go and not over-think it. That seems to be one of the keys to having some fun.

What are your weekend plans?

Stacy
xxoo