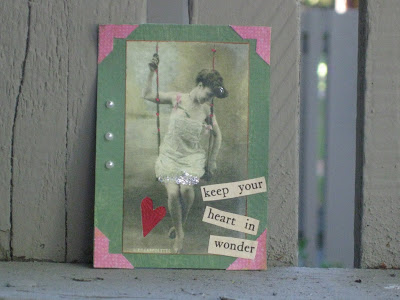 This weekend I made my first artist trading card! Of course, I have no one to trade with, but that's okay. The card, which is 2.5" by 3.5", seems gigantic compared to the teeny canvases I've been working on.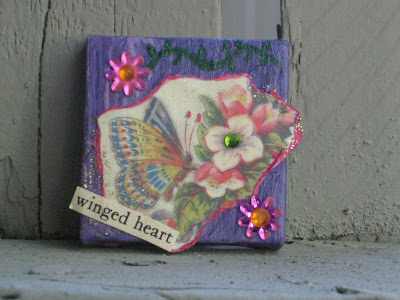 My art might not be improving, but it is certainly getting more sparkly :-) The flowers in the above collage are sequins with adhesive "gems" in the middle. I also used my glitter paint around the edges of the butterfly.


The other thing I did this weekend was read what I have come to

affectionately

call my "naughty books." For the record, I used to only read good literature, the kind that deals with profound themes and wins prestigious awards. Now I read Harlequin romances from the 1980's.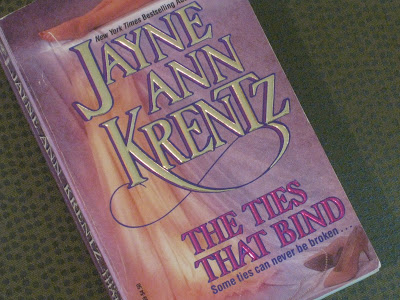 Actually, I only read this author, who also writes as Amanda Quick and does historical romances, too. I'm confessing my

newfound

love of her books because this one really tickled me. As you might know, I recently went to Mendocino on vacation. Since I've been back, I've been dreaming about what it would be like to live there and be an artist rather than work at a high-tech company in Silicon Valley. I didn't know it when I bought this book at a thrift shop a few weeks ago, but it is about an artist who lives in Mendocino and falls in love with a man who runs a high-tech company in Silicon Valley. Isn't that funny? I did a whole lot of giggling as I read the book out on my lounge chair on the patio this weekend. It really delighted me.
* * *

On a different subject, yesterday I received an email from a friend saying she'd been leaving comments on my blog for a while now, but just discovered they have not been showing up. If this has happened to you, please know it is a Blogger issue; I have never moderated comments. Last night I changed the settings so that the comments show up as a new page rather than embedded, and I'm hoping that will fix it. (I've also decided that if not for this issue, I would have had hundreds more comments on my posts. Please just go with me on this.)

* * *

Linda at Natural Suburbia is having a giveaway! She's offering the gorgeous sock yarn shown above, and although she is located in South Africa, she will ship anywhere. Please check out her blog!
Stacy
xxoo