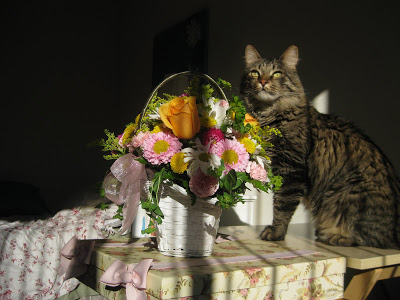 My sister thoughtfully sent me a

bouquet

of flowers at work the other day, and I brought them home on Friday to enjoy over the weekend. While attempting to photograph them, Charlie decided to strike a pose.
I love how this one turned out-- he looks like a superhero who just sensed the bat signal. (Cat signal?)
Friday night I treated myself to a pedicure and an issue of Somerset Studio magazine. That magazine gets my creative juices flowing. I stayed up until two in the morning working on this collage.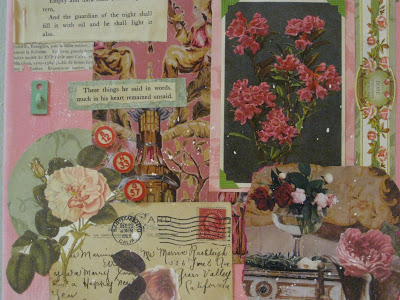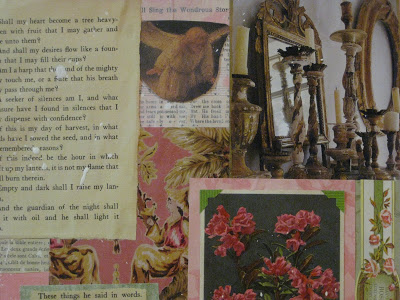 I had fun splattering white

gesso

on it.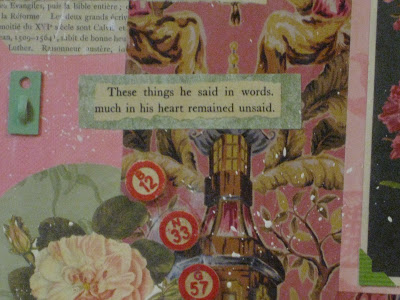 I finished decorating another small tote. You probably can't tell from the photo, but it's only about 4" by 5". I wanted to play around with fabric, felt, and needle felting.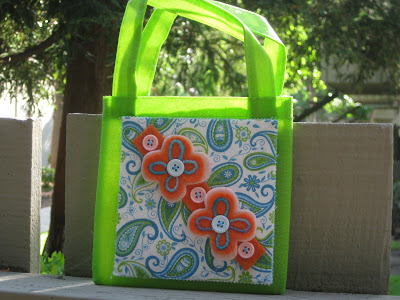 Saturday I stopped in at my neighborhood Goodwill store and was amazed to see they cleaned the place up and organized everything neatly. I bought several blouses for five dollars each, and this art print on sale for 50% off. I had a bit of buyer's remorse at first because the colors don't match my apartment, but after I found a place for it on my bathroom counter I began feeling happy about having it in my home.


There are a couple of giveaways going on I want to tell you about. The first one is from Jill at Mindfully Simple-- she is giving away a lovely handmade bead necklace. The second is a special and incredibly generous giveaway from Kelly Rae Roberts, which I really hope you will take a minute to read about.