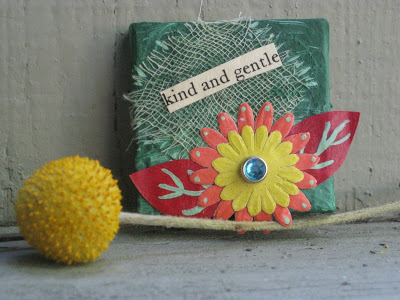 After attending that excellent collage class last weekend, I found myself rushing home after work this week to make collages. The class renewed my enthusiasm for collage and opened my mind to new possibilities.
Both of these collages are teeny-tiny, but I'm looking forward to experimenting with larger canvases after I use up my supply of miniature ones.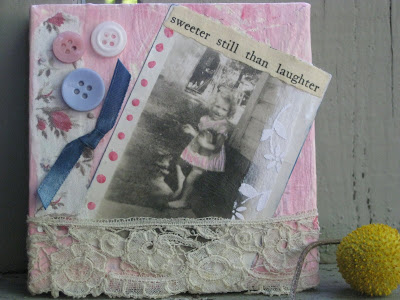 For the above collage, I used an old black and white photo I got at a thrift store, antique lace from a garage sale, and words from a page in an old copy of "The Prophet" by Kahlil Gibran. The background is painted in shades of pink and cream.

* * *

I sent out both of my swap packages this week. One went to Deb at Garage Sale Gal, and the other to Katharine at Woollywotnots. Katharine posted a little teaser about the package she sent to me and I am in awe of her creativity and thoughtfulness.

While preparing the swap packages for the mail, Charlie decided he wanted to get in on the action and hopped in Deb's box.


I asked Charlie, "Do you want to be swapped?" His face lit up and his eyes sparkled with excitement. (I must say, it hurt my feelings a bit ... is my cat that bored with me?)


Anyway, don't worry Deb, I removed him before mailing your box! But I hope you don't mind a little cat hair ...


If you're in the states, happy Fourth of July! Now that my laundry and vacuuming is done, I have a wonderful three-day weekend planned that involves watching DVDs, doing some light reading out on the lounge chair, knitting and needle felting.

Hope you have a wonderful weekend!
Stacy
xxoo