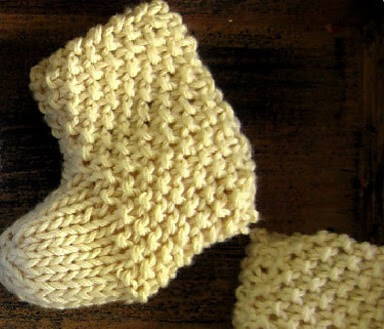 Here is a pattern for easy-to-knit baby booties that I created for a charity project. This pattern was inspired by Bev's Stay-on Knit Booties.
They are knit on straight needles with yarn made with 100% corn fiber which is quite soft for baby's tender little toes. You can easily substitute it with any type of sport weight yarn.
The booties are knit in one piece and then seamed in the front and back. The finished bootie measures approx. 3.5" from toe to heel. I designed them for newborns, but a friend told me the pair I gave her fit her three month old perfectly.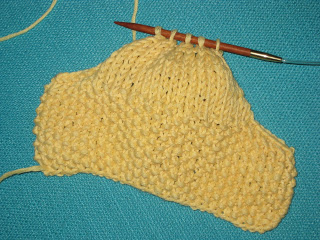 -Size US 6 straight needles
-Tapestry needle for seams


Cast on 32 stitches.


Rows 1 - 15: Work seed stitch for 15 rows.
Row 16: Bind off 6 stitches knit-wise and then knit to the end of the row. (26 stitches)
Row 17: Bind off 6 stitches purl-wise and then purl to the end of the row. (20 stitches)
Row 18 - 23: Continue working stockinette stitch for 6 rows.
Row 24: Knit two together across the row. (10 stitches)
Row 25: Purl.
Row 26: Knit two together across the row. (5 stitches)
Slip the remaining 5 stitches off the knitting needle and on to the tapestry needle.

Pull the yarn through the stitches, tightening the toe.
Sew the front and back seams using mattress stitch.