I adore making artist trading cards. The small size allows you to finish one or two in an evening, yet they're big enough to offer endless creative possibilities.

Here are a couple ATC's I sent to friends recently for our monthly swap. Our theme was "hearts."

This first one has a movable part.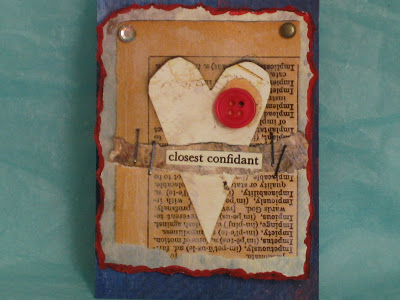 The photo makes it look fancier than it actually is ... it's one piece of paper printed with the heart, newsprint, scrap of torn paper, staples, etc. on it. I simply tore it off a larger sheet of scrapbooking paper, glued a button on it and added a gem and a brad.

But here is the suprise underneath ...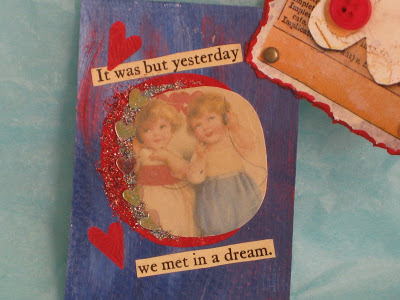 I like the words that came together for this one ...

When I go to flea markets and antique stores I often look for old postcards with interesting pictures, handwritten messages and postage stamps to use for collages. I especially like the ones from the early 1900's that cost a couple of cents to mail. I like to read the message on the back and think about the person who wrote it, imagining what their life might have been like.
I found some good ones last weekend at a flea market held in a high school parking lot.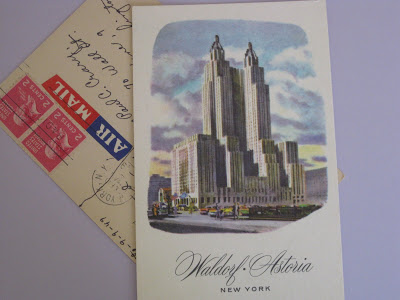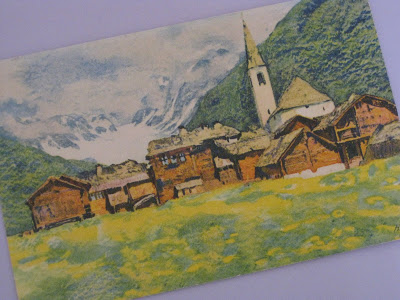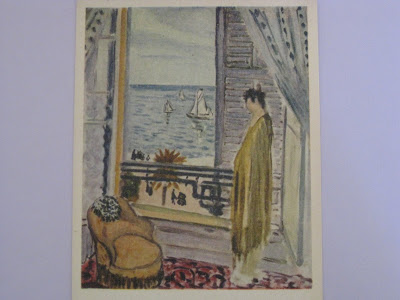 The best postcard is this one with a picture of a man fishing on the bank of a river. "You look lonesome there Bill" is scrawled underneath it.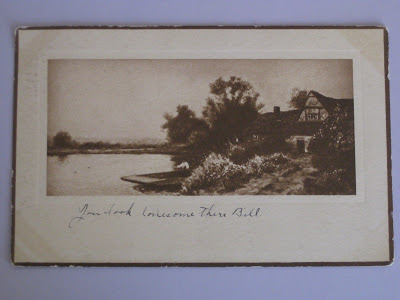 Dear Bill,

What made you think I should be angry. I could never get sore at you. Went to a dance Friday night. There were about seventy-five couples, would have preferred you to be with me.

Answer soon.
-MLB


I wonder if Bill really was lonesome and what made him think MLB was angry. I wonder if they ever saw each other again, if they danced, maybe even ended up getting married.
I don't think I'll cut this one up for a collage; it's worth saving.