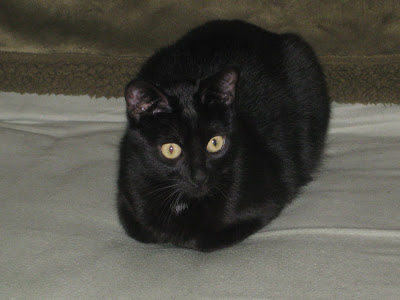 Yesterday my little black cat hopped up on my lap and looked up at me with his sweet hopeful face, and for the life of me I could not recall his name! Isn't that awful? It came to me after a moment or two ... APOLLO! I didn't name him, so maybe that's why I couldn't remember it.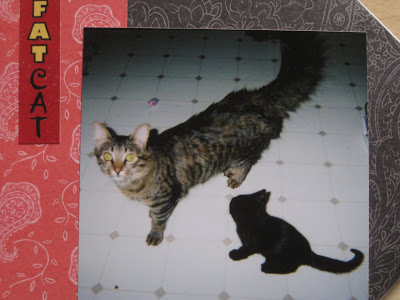 A while back I told the story of how
Charlie
came to live with me, so now I'll share Apollo's story. A few years ago, my neighbor stopped by to ask if I wanted a kitten. She said that one of her co-workers discovered him in her kitchen, in the oven vent! He had somehow gotten up on the roof of the house and fell down the vent. I agreed to take him, and a few days later a tiny five week old kitten was delivered to my door.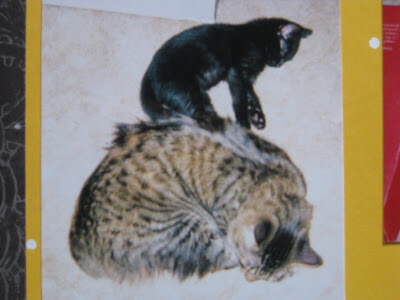 Apollo and Charlie were best buddies right off the bat. Apollo still needed mothering, and even though Charlie was only one year old, he took care of him like a parent, cleaning, playing, and napping with him.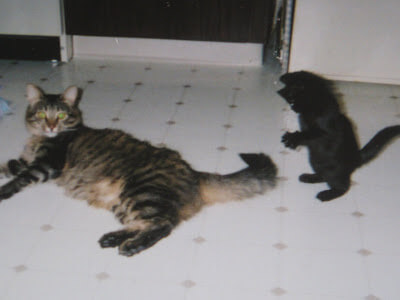 This is my favorite picture of the two of them when Apollo was a kitten. He looks like a tiny monster. I wonder if in his head he was saying, "Grrrrrr ..."
The person who found him named him Apollo, but I tried to change it. I called him Tink for a while, but he never responded to it. He seems to know that he is Apollo, so I went back to that. Of course, he does have lots of nicknames, like Polly, Tinkles, and Boo Bear.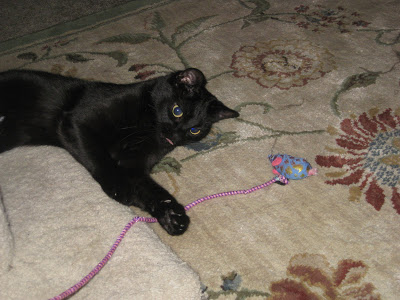 Oh, maybe that's why I can't remember his name. :o)


Have a great week.