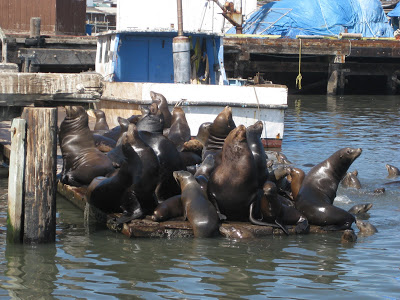 Yesterday I went on the nature boat tour at Elkhorn Slough with my friend Dogwood. It was wonderful! We saw lots of birds and marine mammals, and the naturalist on board taught us so much. The weather was mild and the water was calm for most of the two-hour trip.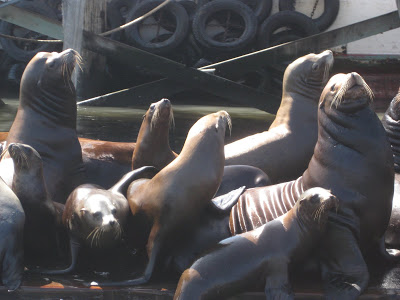 There were tons of sea lions. Can you see the baby in the front?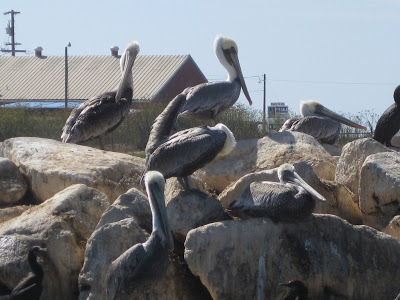 We saw many brown pelicans. These birds were on the verge of extinction years back because of the pesticide DDT, which was banned in 1972. Pelicans incubate their eggs with their feet, and the DDT made the egg shells so fragile that when the pelicans stepped on the eggs they immediately crushed them.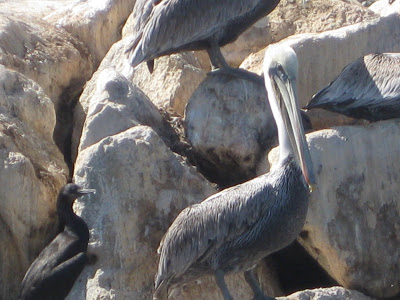 It was good to see them in such large numbers.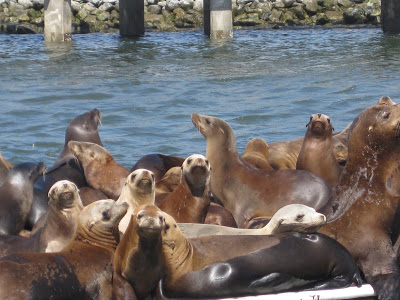 The naturalist told us that all of the sea lions are males, and that the females are in Santa Barbara right now.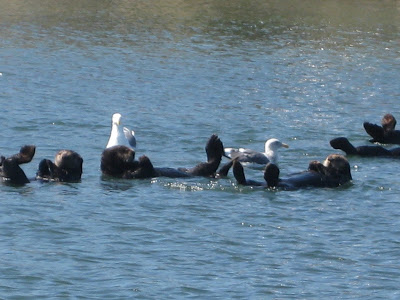 These are sea otters floating on their backs. They were hunted for their pelts almost to extinction in the early 1900's. Fortunately, they have made a comeback. Today they are listed as threatened by the Endangered Species Act and fully protected by California law.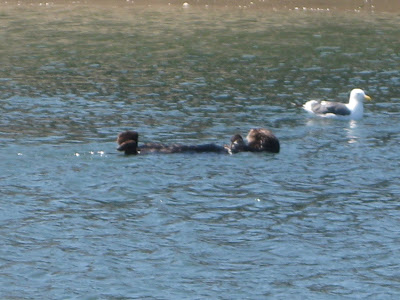 Sea otters feed on clams (among other things) by placing the clam on their chest and pounding on it with a tool, usually a rock. Otters will keep their tool in a little flap near their armpit and reuse it again and again, sometimes keeping the same tool for life.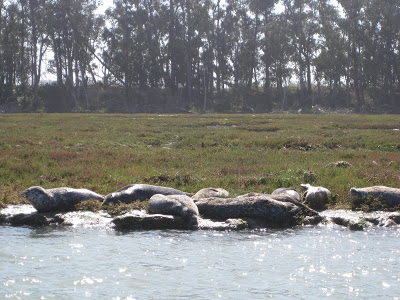 These are harbor seals sleeping on the shore. I was surprised to learn they are nocturnal and do their hunting for food at night. Harbor seals are smaller than sea lions and have holes for ears instead of ear flaps.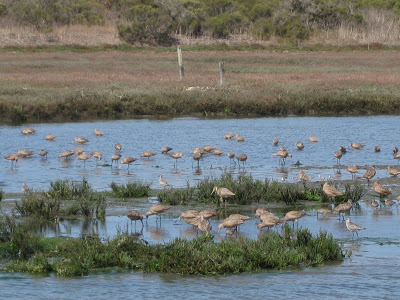 I believe these birds are Marbled Godwits; a group of them is called a prayer. We also saw Grebes, Terns, Sandpipers, Gulls, American Avocets, American Coots, Long-Billed Curlews, Snowy Egrets, Great Blue Herons, and Great Egrets.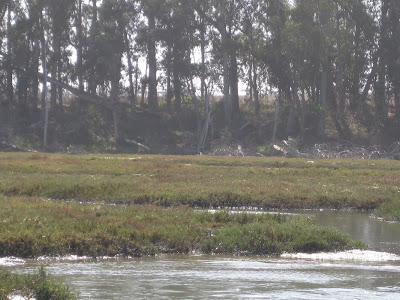 The slough is such a gorgeous place. The naturalist told us that there was once a plan to build condos on the surrounding hills and divert the water so a freeway could go though it. Fortunately, Dave Packard of Hewlett-Packard stepped in and bought some of the land to protect it from development. The Nature Conservancy bought up the rest, and now we have this beautiful habitat that so many animals make their home.



Strong winds and cold temps arrived as we made our way back to the harbor. Dogwood and I had a hearty lunch at The Whole Enchilada and then went shopping at an antique store. I'll show you my treasures on another day.

Have an excellent week!