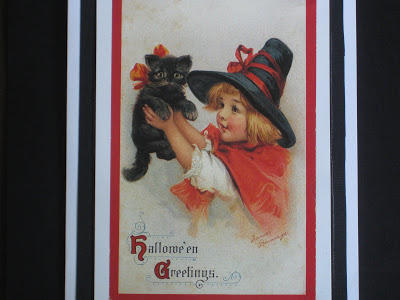 I made Halloween greeting cards out of these vintage-looking postcards for my friends in my ATC swap group. The greeting cards aren't too fancy, but I thought you might enjoy seeing the postcards. I fell in love with them when I saw them in the store.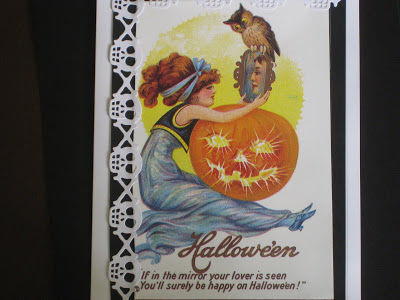 Basically, all I did to make the greeting cards was adhere the postcard to a panel and then glue the panel to a blank greeting card. You might remember my post about trying to use glitter to fancy them up-- the card above has a skull border because I had to cover my glitter faux pas. I like how it turned out.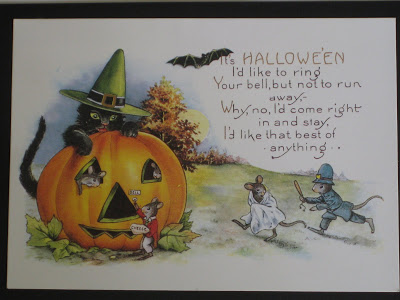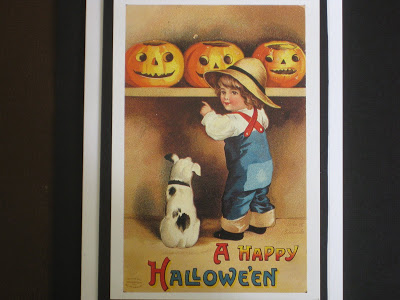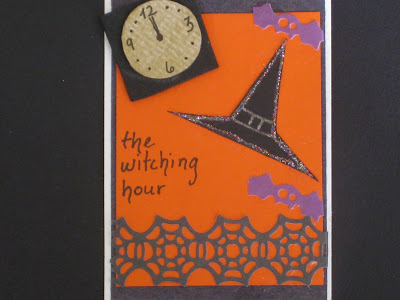 This is my October artist trading card. The theme was "The Witching Hour." It was a learning experience for me. I saw the cutest Halloween stickers at the craft store, but decided to challenge myself to create the ATC from scratch instead of using stickers. (I did buy the bat and cob web cut outs.) The ATCs took a very long time to make and I really don't like the results. Today I decided it's okay to use stickers if that's what makes me happy. While I do want to grow and learn new art techniques, I also want to have fun and feel good about what I create. Plus, I love stickers!

* * *

So, I just realized today is the big reveal for
It's All About Me
, the swap where you make something for yourself. I mean I JUST realized this about five seconds ago. I thought the reveal was this coming Saturday and I planned to do a giveaway, too. It's been a hectic week and I got mixed up. I'm too exhausted to take photos of my project and write a new post, so I will just do it on Saturday. Please stop by and check it out!