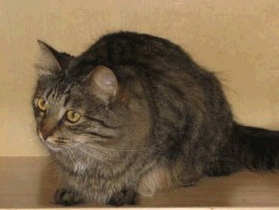 When I moved a few weeks ago, I stayed within my apartment complex, just moving a few buildings over. Last night I took Charlie, who has been walking on a leash since he was a kitten, for a walk to our old place. From the weird look on his face, I don't think he understood how close we live to our former apartment. He walked right up the stairs, sniffed around the patio, and then began pawing at the door and crying to go in. Oh, I felt so bad. I had no idea he would react like that. I tried to explain that we don't live there anymore and I don't have a key, even showing him the empty room through the window, but he didn't understand and protested as I tried to carry him home. Poor guy. We won't be doing that again.

He was fine once we got back to our new place.
* * *
I was bummed out on tax day because I had to pay more than expected due to working as an independent contractor last year. But that evening I received some good news. In my mailbox was a letter from the district attorney's office along with a court order stating that the man who wrecked my car in a hit-and-run a few years ago must pay me the total value of the car. It was an older car, so it isn't a tremendous amount of money, but I've been trying to collect it for a while and had just about given up. It was funny (and wonderful) that the letter arrived on the same day I had to pay a painful tax bill.

I celebrated by buying the little tables I had my eye on at a secondhand shop.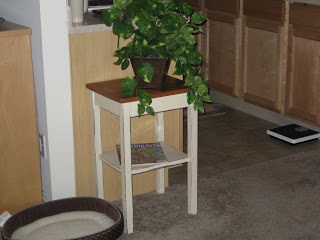 Also picked up this April Cornell throw pillow at the secondhand shop, along with some solid color cushions at Wal-Mart for seven dollars each.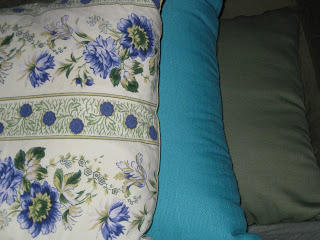 And I bought this frame at Michael's for the vintage print I got at Goodwill. I love how it looks hanging over the couch.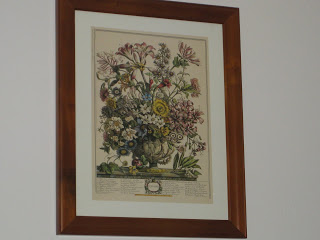 * * *
Poor Apollo. He always seems to play second fiddle to Charlie, who is a bit of a rock star with his sweet personality and gorgeous looks. Apollo turned two recently and didn't get a mention in this blog like Charlie did. So, happy birthday Apollo. You are every bit as beautiful and special as your brother. (Yes, my cats read my blog, have emotions, and understand every word I say. Yep. They really do.)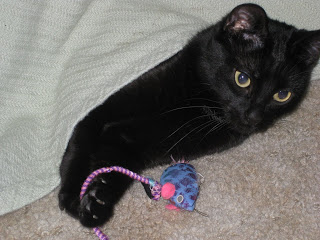 * * *


Here is another musical street theater video. A girl working at the corn dog booth in the food court at a mall bursts in to song, and soon others join in. It's a kick. I sure wish something like that would happen while I am out and about-- I would LOVE to see that. I'm sure I would start crying, because everything seems to make me cry these days.
http://www.youtube.com/watch?v=dkYZ6rbPU2M


* * *
kelly rae is having a giveaway. Three chances to win! All you have to do is offer a phrase in four or less words she can use as an affirmation in her art. Mine is, "say yes."