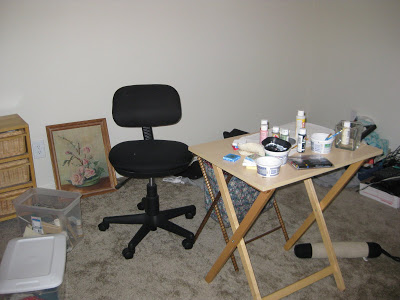 I didn't have time to do any crafts for several days when I moved, and I missed it. Not having that quiet time for myself helped me remember that knitting a scarf or making a collage isn't just about the finished result-- it's also about having uninterrupted time to channel my creative energy in to a specific project. When I wasn't able to do that, I could feel the energy building up inside of me, banging around, wanting to get out. I felt out-of-sorts and crabby.

Lesson: Time spent crafting is joyous and completely necessary.

I'm still unpacking my bedroom, but I did take the time to set up a table and chair in the middle of the room to serve as my tiny art studio. It feels exquisite to sit there, even among the random piles of cat toys and computer equipment, and paint and collage without distraction. As someone who has struggled to honor her creative desires for many years, staking out this little space for myself feels like a pretty big deal.

* * *
In the book Mixed Mania: Recipes for Delicious Mixed Media Creations , the authors write about committing to a daily art assignment. One of the authors made a paper doll every day for a year, and the other author made tiny collages. I really, really like the idea of a daily art assignment (but I'm not quite ready to commit). The genius behind it is you don't get too attached to your art because you know you'll be making something new the next day. You can take risks and experiment because that one piece isn't necessarily a reflection of your skill or your talent; it's just one piece in a day of your life, one opportunity to sit at your table and engage with your creative spirit. (Which is joyous and completely necessary, as mentioned above.)
When I started making collages, I told myself that I was doing it for fun and didn't allow any self-judgment. It freed me up to create with abandon, and I like those early collages very much.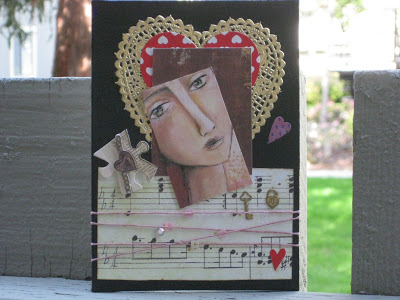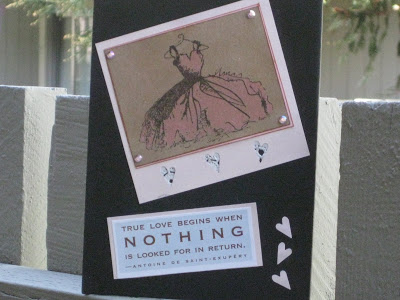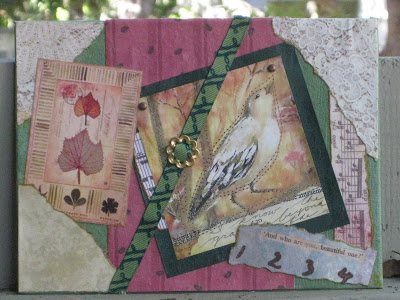 (The image of the girl in the first collage and the bird in the third collage is the work of

DJ Pettitt

.)



Lately it's been harder to create because I lost that feeling of fun and play and began comparing my work to the awesome talent on the blogs I read every day. It's intimidating.

I'm trying to get back to that place by creating small things not-quite-daily, but more daily than usual.

In that spirit, this little collage was created on a 2" X 2" canvas using acrylic paint, gesso, fabric, and Modge Podge. I used techniques from the books Taking Flight and Mixed Mania .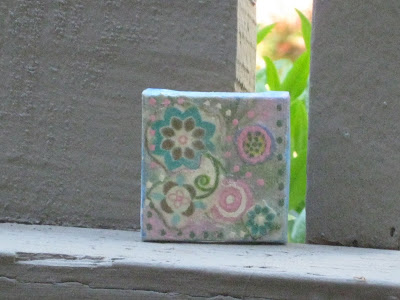 I love those tiny canvas's and want to keep working with them to create something … well, something that I haven't quite figured out yet.

This is a little bit of needle felting on a scrap of an old felted sweater. I used a pattern from the gorgeous book Pretty Little Felts .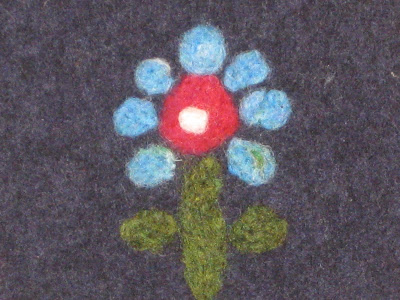 I'm not quite in the fun-and-play place, but I'm headed in the right direction.




* * *

Today is Charlie's third birthday! We celebrated this morning with cat treats, a dollop of gourmet canned food, and a couple of off-key rounds of "Happy Birthday To You."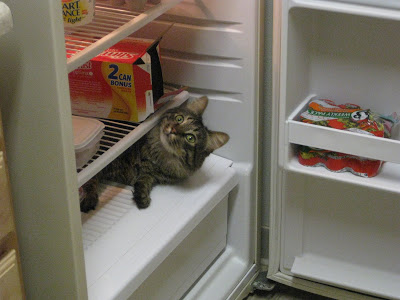 Happy birthday, Charlie.

* * *
This post is dedicated in loving memory to Buster, the beautiful orange tabby that belonged to the Dogwood family. We love you Buster.