Stitches West 2011 was as fun and exhausting as it is every year. Usually within the first five minutes of entering the marketplace I retreat to a quiet corner to try and get acclimated to the noise and crowds, but this year I was surprised at my ability to jump right in and start shopping. After attending this event for so many years, I felt like an old pro at navigating the chaos ... for at least ten minutes. Then I scurried off to a corner.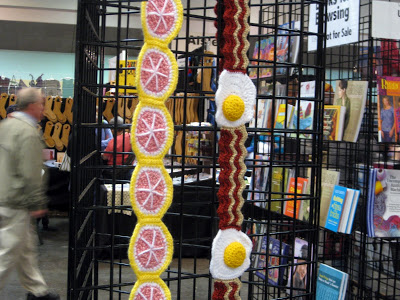 But eventually I emerged. After all, you can't feel too uncomfortable in a place that offers a display of crocheted bacon and eggs.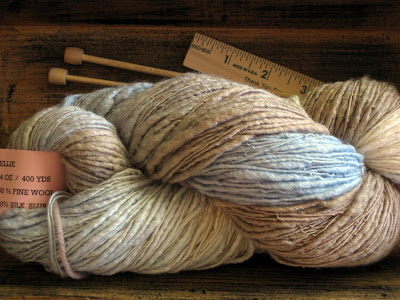 I let myself indulge in several skeins of luxury yarn, buying whatever I felt drawn to without having a specific pattern in mind. This first one is 50% wool and 50% silk slub. The knit sample was gorgeous-- I love how it looks with the variations in the thickness of the yarn. The yarn is called Ellie and is from
Brooks Farm Yarn
.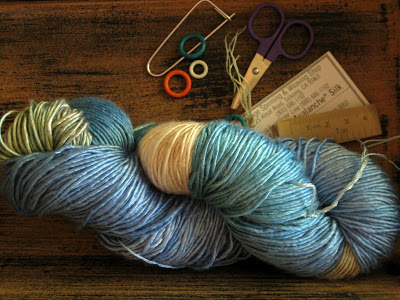 This next one is hand-dyed, 100% silk. It's called Avalanche and is from
The Village Spinning & Weaving Shop
. The second year I attended stitches I bought a skein of white organic cotton from them and have such fond memories of it that I like to buy a little something from their booth each year.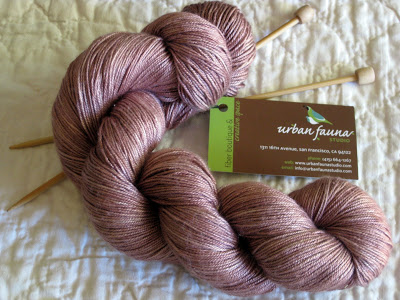 This last skein is also 100% handpainted silk. It's fingering weight, so I will probably use it for a lace shawl. I wasn't sure if I liked the color until I held it next to my spotted, weather beaten hands and saw how nicely it compliments my skin tone. That doesn't happen very often. It is from
Urban Fauna Studio
.
The lace workshop I took was pretty interesting, but I will save that for another day.
Heather at
Implausible Yarn
is starting a new venture and kicking it off by giving away a retro design Big Ben clock from LL Bean. Stop by and check it out!