As many of you know, last autumn I moved to a new apartment and was eager to see the types of birds that would come to my feeder. Although I live in the heart of a big city, I'm tucked away in a tiny little corner of wilderness with a flowing creek and tall, mature trees.

T
he bird life has been okay, but not as exciting as expected, until a couple weeks ago. We had our first warm day in a very long time, and when I opened my eyes and gazed out the window that morning, I saw a bright yellow bird hopping from branch to branch in the redwood tree. (I think that might have been the fastest I've ever jumped out of bed.)  It was a Townsend's Warbler, a bird I've only caught quick glimpses of in the past.
That morning an amazing variety of birds stopped by. Not all of them fed at the feeders, but they were kind enough to forage in the trees and on the ground at the edge of the creek. There were woodpeckers, finches, warblers, sparrows, robins, and more. It was like they all got the memo to come on out and play.
I can hardly describe my excitement at seeing all of those birds outside my window. That afternoon I paid a visit to the Wild Bird Store, eager to purchase a few more feeders. I won't tell you how much money I spent, but I can tell you the number of bird feeders now hanging on my small patio: seven. Seven! I am officially a Crazy Bird Lady. My kitchen cabinet is bursting with seeds.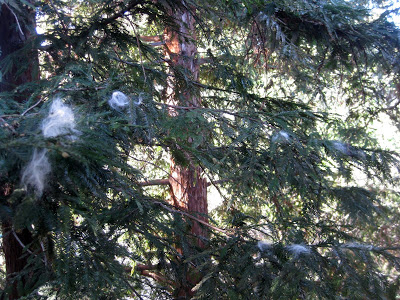 Not only did I buy feeders and seed, but I bought Alpaca roving to drape in the trees so the birds can use it for their nests. It was fun decorating the tree with it, but I had my doubts it would actually be useful until I saw a hummingbird pull a strand off the tree and fly away with it.

I don't mind being a Crazy Bird Lady at all. I love offering the birds a variety of food; it brings me great joy to watch them nibble on sunflower seeds and suet. I like the excitement each morning of anticipating the types of bird that will come to visit. And I love knowing I'm helping to support bird life in this time of shrinking habitats, climate change, and other challenges our winged friends face.