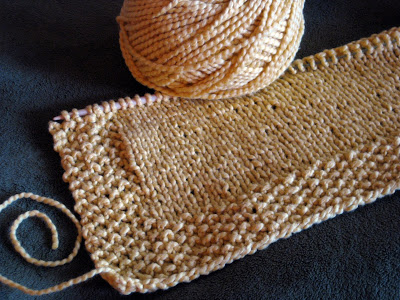 It's warmed up here to the point where I can comfortably knit outside on the patio. I'm working on my first baby blanket in this soft organic cotton. It's for my sister's baby, also known as "the bun" (hence the name of the blanket), also known as my future niece, due to arrive in June.
I usually avoid knitting blankets because I don't like to work with such a large number of stitches, plus I'm in to the whole instant gratification thing (or as instant as you can get with knitting) and blankets take forever. But this one is gratifying in a different way because I get to sit and think about the bun as I knit and send her my love with every stitch.
Speaking of blankets, I don't sew, but I'm a big fan of quilts and love these
Courthouse Steps
mini-quilts from The Purl Bee. The shades of orange, blue and grey look so nice together-- who'd have thought? I never would have put those colors together.
* * *
* * *
* * *


For those of you experiencing blizzards and freezing temperatures and endless amounts of snow, stay safe and warm. You are in my thoughts.