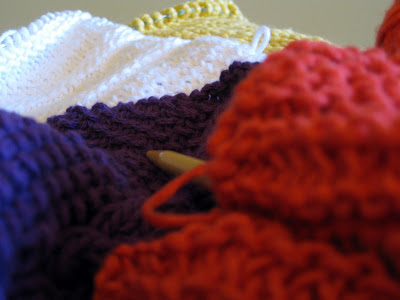 I've gotten in the habit of frogging knitting projects that I doubt I will ever finish instead of letting them languish at the bottom of the knitting basket for months and months.
(For non-knitters, "frogging" is ripping out the rows. Rip it. Ribbit. Cute, huh?)
It feels pretty good to know I can finish all of my current projects in a reasonable amount of time. Now I just need to actually sit down and do it.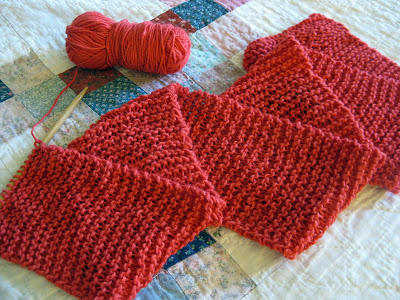 This scarf is pretty long already, but I want to finish using up as much of that yarn as possible (kind of like feeling like you need to clean your plate even though you're no longer hungry). It's made of bamboo and is really soft. Unfortunately I threw out the ball band and can't remember what it is.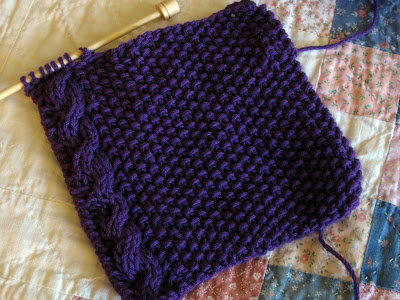 The cabled baby bib is almost done. Just need to finish the neck strap and sew on a button.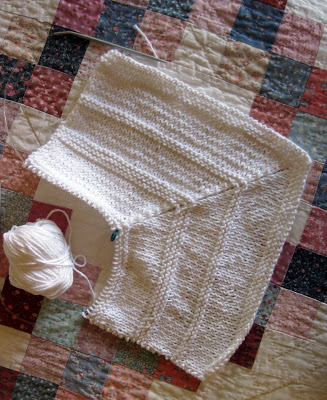 I made lots of progress on the hand towel last weekend. It was hard to stop knitting it, even thought my hand got really sore. I ended up having to take a few days off from knitting to give it a rest.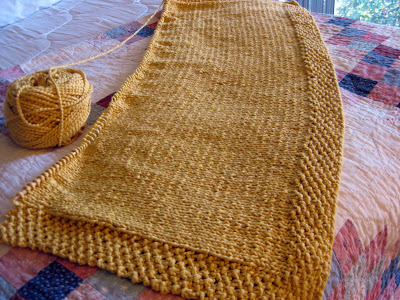 The baby blanket is halfway done. I'm still amazed at how much I am enjoying this project after avoiding blankets for so many years. I might have to knit one for myself next.
I'll be back this weekend with pics and details from Stitches West. If you're in the states, hope you enjoy the long holiday weekend. (And if you're not in the states, hope you enjoy your regular weekend.)
PS. Check out the giveaway at
GerryART
!