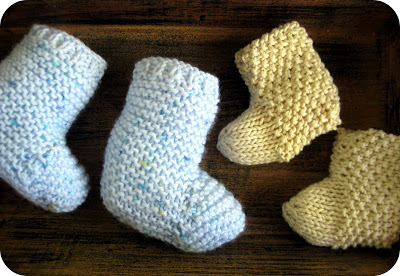 Finally.
Someone I know is pregnant! I get to knit for an actual baby, not just for the love of tiny little things. I used Frog Tree Pima Silk for the
seed stitch booties
, and oh my, it is wonderful to work with. I'm not exactly sure what it is about cotton/silk blend yarn that makes me so happy ... maybe it's the softness, the way it glides smoothly over the needle, or the slight sheen. Or maybe all three.
Matching caps are in the queue.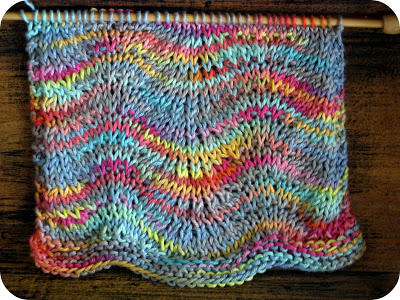 Yesterday I went to San Francisco with my family and needed an easy knitting project for the drive there, so I started another ripple scarf using the same pattern as the
Apple Tree scarf
. You might remember this
Fairytale
yarn from when it arrived last spring. This pattern gets pretty tedious after a while, but I really like how it looks with the variegated yarn.
We are having an uncommonly cool summer (hopefully I didn't just jinx it), which might be why I am getting enthusiastic about knitting again after a short break.