I knew that
Cory
had planned some crafty activities for our weekend together in Grass Valley, but I didn't quite comprehend the fun that was in store for us until I arrived. It was like an arts & crafts retreat.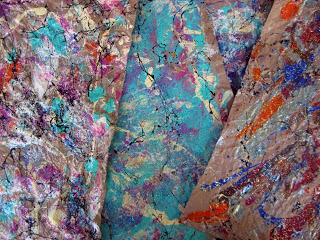 When I got there at noon on Friday, she whisked me in to her studio and taught me to make this cool handmade paper. It's made with brown paper bags, paint, glitter, spray-on webbing, and gold coloring. Very fun and easy to make, but I went a bit overboard with the glitter.
After a trip to the incredible Ben Franklin craft store, we spent the evening needle felting.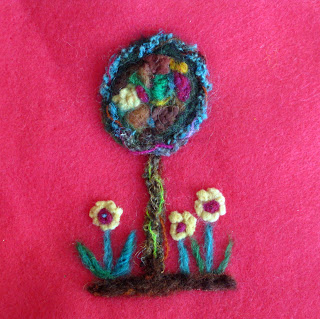 On Saturday morning we departed for
T Pots Pottery
in Truckee, owned by Cory's wonderful daughter Teresa. The drive there through the
Sierra Nevada
mountain range was breathtaking.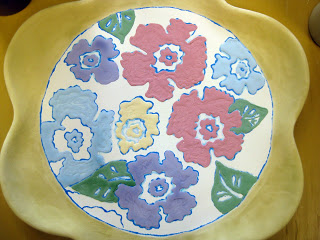 I've never painted pottery before and wasn't sure I could make something that I would ever want to look at again, but Cory and Teresa patiently walked me through the process. The above picture is the plate I painted before it was dipped in glaze and put in the kiln.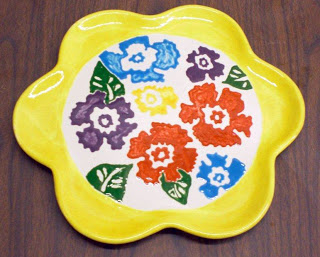 And here it is after. The flowers were created with a stencil, so it was quite easy. I also made a fused glass dish, but will have to show you that at a later time.
After dinner at a yummy Thai restaurant, we went home and sat outside on the deck intending to knit and chat. The evening took an exciting turn when a
Western Screech Owl
popped his head out of the owl nesting box. Her backyard is a birder's paradise.
This morning before I left, Cory taught me how to bind a little book made with folded paper that can be painted and embellished. I can't wait to start working on it. The above photo is a similar book that Cory created.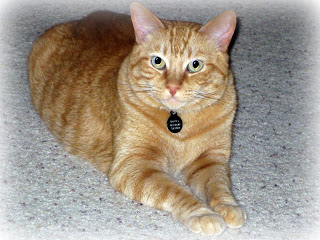 Rocky supervised all craft activities :)