I am so frustrated. I want to create, but it just isn't working. In the mood to knit, I took my plastic bins of yarn out of the closet and picked through my stash, hoping for inspiration. Nothing. I spent an hour on Ravelry looking at patterns. Nothing. So I got out my paints and embellishments, intending to collage. That started out well, but it didn't take long before I abandoned it, muttering, "My art sucks." Grrrr. I feel like a flower that wants to bloom but can't quite get enough sunshine.

So instead of showing you my latest works-in-progress, I'm going to share some of the artist trading cards I received recently from my swap group. (They are all photographed at an angle so that Blogger doesn't turn them sideways when I upload them.)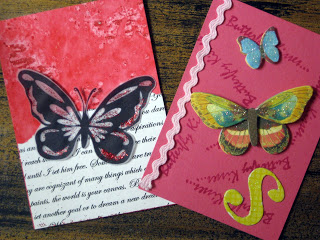 The one on the left is from Rachel at
Not-So-Plain Jane
. The one on the right is from Deb at
Garage Sale Gal
. They both have such an eye for color and design. You probably guessed the theme was butterflies.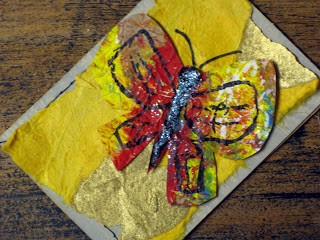 From Cory at
Pink Dogwood Blossom
. She made it with her own handmade paper.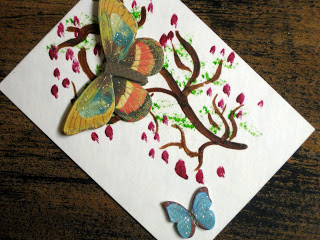 From Jill. I love the way she combined the butterfly stickers with the painted tree. The photo doesn't do it justice.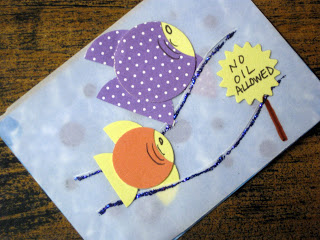 This one is from Cheryl for our Under the Sea theme. I love it!
I'm going to drag myself to the Farmer's Market and then go off in search of a chocolate eclair. It's shaping up to be a lazy Sunday. Maybe a day spent laying around doing nothing will prove to be restorative.
Do you ever get the creative doldrums? How do you snap out of it?