Actually, it's raining rain here. We had a torrential downpour late this afternoon for several hours, which I spent curled up in a fleece blanket watching Everybody's Fine . What a great movie.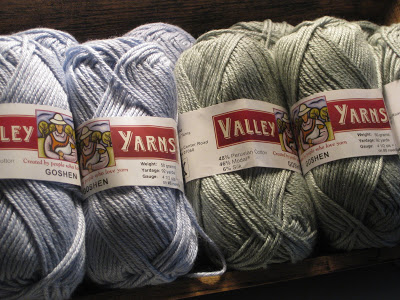 I spent the morning at Stitches West with my friend Cathy and had a great time. My purchases included
Valley Yarns Goshen
yarn, a blend of Peruvian cotton, Modal, and silk. I intended to buy soft yarn in solid colors for a couple of small wraps I want to knit, and I think this will do the trick. There was lots and lots of gorgeous sock yarn and some silk I think I might have drooled on, but overall I managed to control myself.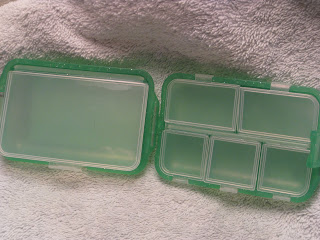 I picked up a couple of these little notion cases. They are the size of a soap box, but you flip it open and it has small compartments for markers, pins, embroidery needles, etc.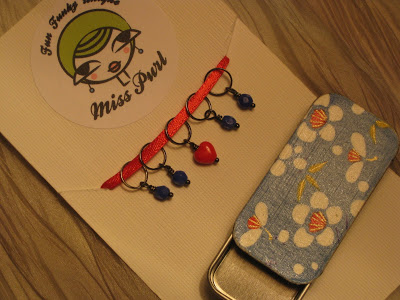 Speaking of stitch markers, Cathy bought me these cute red and blue markers made by
Miss Purl
that come with their own tiny tin box.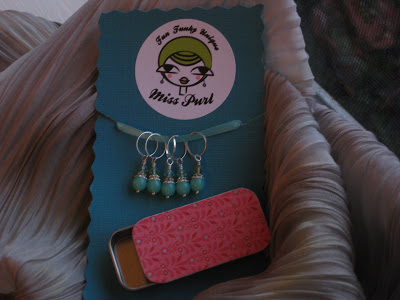 I like them so much I bought a set in blue to offer as a giveaway in celebration of my one year Blogiversary earlier this month and as a thank you for your friendship and support.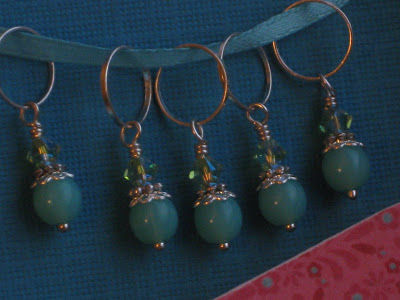 To enter the giveaway, just leave a comment and include your email address if it isn't on your Blogger profile. This giveaway is just for those who read my blog regularly, so there's no need to mention it on your blog. I'll use the random number generator to select the winner on Thursday morning, March 4th. This giveaway is open to my readers in any country.
Thank you for making my first year of blogging so wonderful.