Last weekend my sister Hilary and I spent the day doing a staircase walk at Lands End in San Francisco. We got lucky-- it was supposed to rain all day, but it let up when we arrived.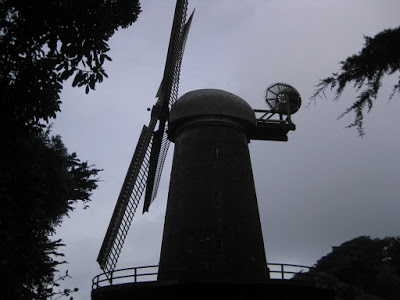 We stopped at Golden Gate park to see the Dutch windmill.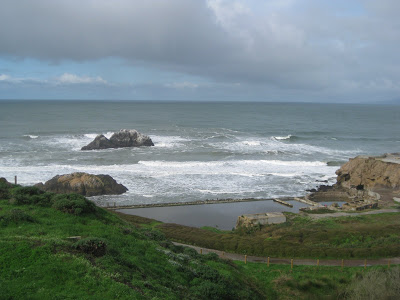 A view of the bay and
Sutro Baths
. It felt so good to be near the water.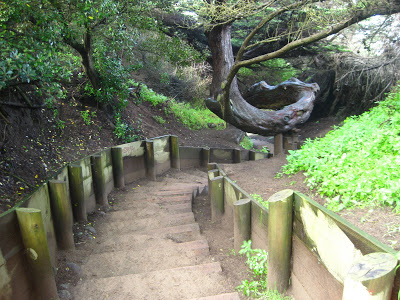 We climbed a whole lot of stairs. We descended a whole lot of stairs. Have I mentioned I'm overweight and out of shape? I lagged behind Hilary, huffing and puffing. She promised me several times "no more stairs," but it was a ruse to keep me moving.


Here's Hil with some sort of bridge in the background.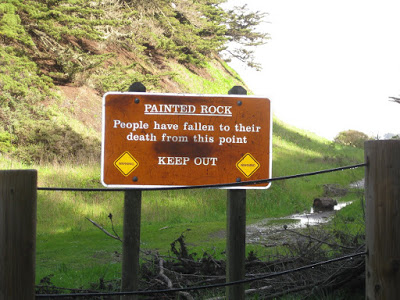 The signage was interesting. We didn't go there.

As we were walking along a lush green trail we spotted a used syringe in the brush. Just lovely. After a short discussion about what to do with it, we kicked it further off the trail and put some dirt over it. I took a picture, but after thinking it over decided to keep my blog a syringe-free zone.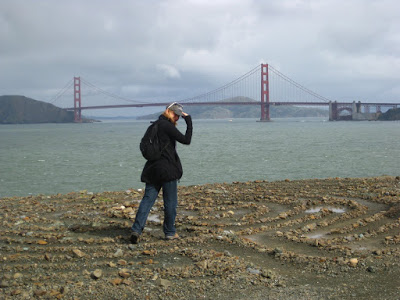 After Hil walked the labyrinth, she turned a corner and continued walking. I stayed behind to take a billion more pictures, and when I turned the corner she was gone. The trail was a dead end, and as far as I could tell the only place to go was over the cliff and down in to the rocky shoreline. I frantically called her name, terrible visions in my mind. Then I heard her calling me from above ... turns out the trail didn't dead end, it went up a steep incline. Phew.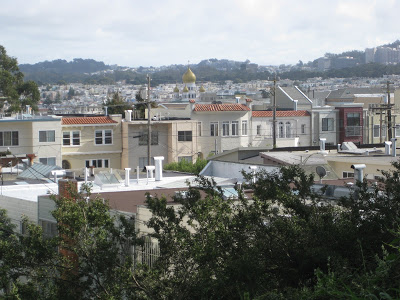 We didn't see too much of the city, but we did spend several hours at the Legion of Honor museum. I'll share more pictures on another day so as not to overwhelm you.