Busy, busy, busy. I have my hands full with my sock knitting class, ATC swap group, and the lace knit-along. And I might start taking a new knitting class where every Saturday you work on a different square for an afghan. It's fun being involved in so many creative, crafty projects, but I'm having a bit of trouble finding time for everything.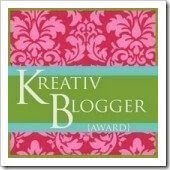 Jill at
Mindfully Simple
tagged me with the Kreativ Blogger award. Thanks, Jill! Now I'm supposed to tell you seven things you might not know about me. Here goes ...


1) I colored my hair every color of the rainbow for over twenty years. These days it's all natural, dark brown speckled with gray. I love not having to color it every month and don't miss dripping hair dye all over the counters and carpet. But I would like a few highlights.

2) About a year after I learned to knit I decided I didn't like it and gave all of my needles to
Dogwood
. Two weeks later I found myself standing in front of the yarn display at Michael's, desperately wanting to knit something. Dogwood was kind enough to return my needles to me.

3) Speaking of Dogwood, thirteen years ago she and I, along with her family and friends, hiked to the top of
Half Dome
at Yosemite National Park. It's a 17-mile hike that can take over eight hours to complete. Dogwood had done it before, but I hadn't and found it extremely challenging. (If it wasn't for peer pressure, I would have quit at the point where you have to climb the
cables
.) It was so difficult that afterward I felt that if I could do that, I could accomplish anything. Sadly, today I get winded walking up a flight of stairs.

4) I have a crush on the character
Spike
from the Buffy series. The other night I dreamed we went on a date, but he just wasn't that into me.

5) I have always loved to write and have had several essays published in magazines and newspapers. One of my proudest writing accomplishments is having a piece published in The Writer magazine.

6) My favorite song at the moment is "O-o-h Child." Maybe it's because I want to believe things are going to get easier.


7) Yesterday was my one year BLOGIVERSARY! A giveaway is coming as soon as I can find the time to figure out what to give away.


I'm supposed to pass along the award, but I don't feel comfortable doing that because I don't want to leave anyone out. If you'd like to play, please grab the award and tell us seven things about yourself.


Have a great week!