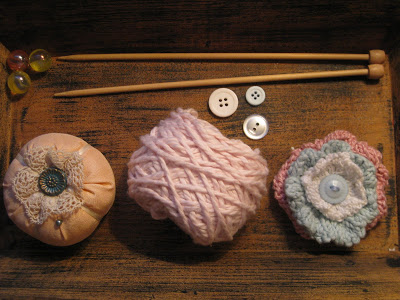 If you aren't familiar, it's a big knitting show that comes to town once a year. There are classes, demonstrations, fashion shows, and a market with yarn and needles and books and accessories and so much more. I really look forward to it and take time off work so I can attend the morning of the first day, before it gets packed. The Stitches Market is overwhelming enough without having to elbow and glare your way through a crowd to get a close-up look at the latest in hand-painted yarn or get your hands on the discounted bamboo needles.
Last year I took two classes, one on needle felting and one on short rows, but this year decided not to take any because they are a bit pricey. I'd rather spend the same amount on a four-week class at my local yarn shop than a two-hour class at Stitches.
I went through my stash this weekend, gathered up a grocery bag of yarn and gave it to Dogwood, who will use it to knit scarves and blankets for charity. It felt good to admit to myself that I won't ever use that yarn and then let it go. Now I can shop at Stitches without quite as much guilt.
The show begins on Friday, so this week I'm going to decide on a few patterns I want to knit in the coming months. That way I can attend the market with a shopping list for specific projects rather than buying yarn just because it's soft or shiny or affordable. But I'm
sure there will be at least a little bit of impulse shopping ... that's what makes Stitches fun.