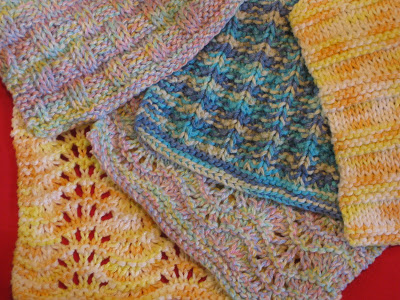 Well, it's been a week and I've managed to keep my new year resolutions goals. It might be a record for me.

The stack of wash cloths is growing and I'm still enjoying knitting them.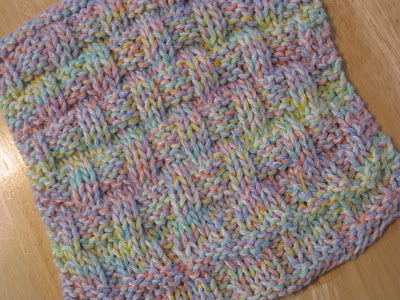 This is the last wash cloth I completed. It's a fun pattern from the 2010 page-a-day knitting calendar my mom got me for the holidays. I made a mistake near the bottom. Can you see it? I'm kinda proud of myself for just leaving it-- it took a fair amount of restraint not to frog it.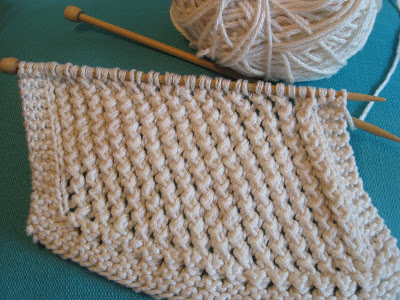 I'm currently working on this dish cloth, also from the knitting calendar. I've never run across this pattern before and while I do like it, for some reason the cloth has a diagonal shape. It doesn't look like that in the picture, but that's okay, it'll work. Plus I love an interesting stitch in plain white yarn.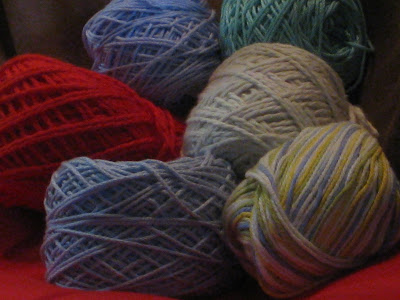 Pile of scrumptious cotton yarn waiting in the wings.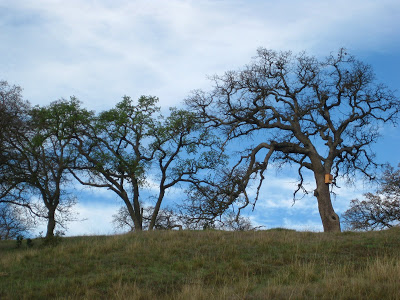 I've been getting out more, too, birdwatching and just enjoying nature. Isn't the sky a gorgeous shade of blue in this photo? Another one of my goals for the year is to learn to take better pictures, so I've been playing around with the camera settings. I'm not sure if that blue is the result of that.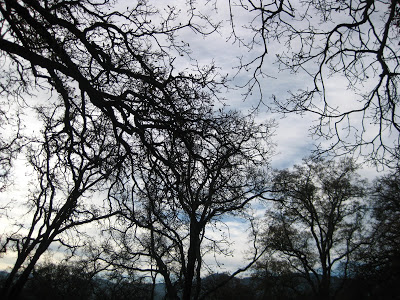 I'm so in love with trees, especially the old gnarly ones.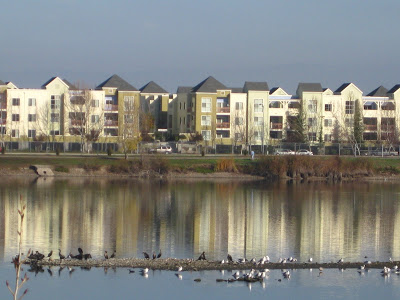 I like the blurry reflection of the buildings on the surface of the lake. Normally I don't take pictures of buildings because ... well, ptooey. But this one turned out kind of neat.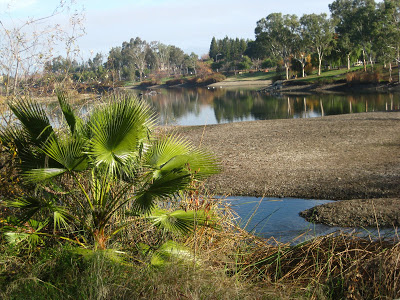 This is my secret spot where I like to just sit. (You can't see it, but there is a wooden bench.) The stream burbles and gurgles and birds flit in the branches above. As I was sitting here last weekend I saw an odd movement in the corner of my eye that turned out to be a Downy woodpecker. It was exciting because I rarely see those.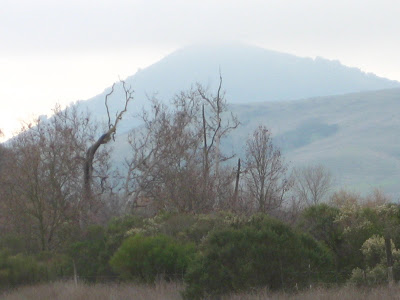 I went birdwatching in a new place last weekend, too. There are tons of good birdwatching spots in my area that I haven't checked out because I tend to go to the same places over and over. It was a chilly, foggy day and I saw some interesting raptors and water birds.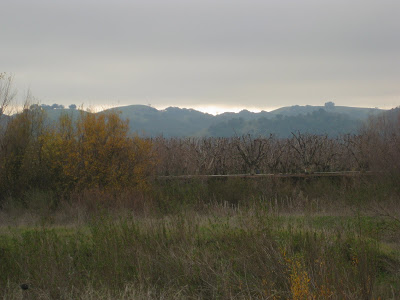 The setting was so peaceful, but it's right next to the Model Airplane Sky Park, so the air was buzzing with tiny remote control airplanes. It didn't take long to tune them out and enjoy the scenery.

Tomorrow I am taking my first sock class! That is one of my goals this year, to learn how to knit socks. I'm a bit nervous but looking forward to it and hoping to meet some new knitty friends.

Hope you are enjoying your weekend and staying warm. I'm off to run some errands and then settle in for movies and knitting.