Did you know you could knit a poem? In October 2009, a giant handknit Dylan Thomas poem was unveiled in celebration of National Poetry Day Live in London. The project was coordinated by
The Poetry Society
and involved more than 1,000 knitters and crocheters worldwide who each knit individual letters of the words of the poem in 12-inch squares. The Poetry Society's website has a fun
Knit a Poem
game where you type in a poem and they "knit" it for you.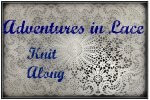 Lazy Kate Creates
is having a lace knit along. This will be the first KAL (knit along) I've participated in. You have to love Kate's strict, no-nonsense rules:
1. You can use any pattern.
2. You can use any yarn you wish.
3. You must have fun.
4. Anyone can join at anytime- there are no deadlines.
5. There are no more rules.
Want to join us?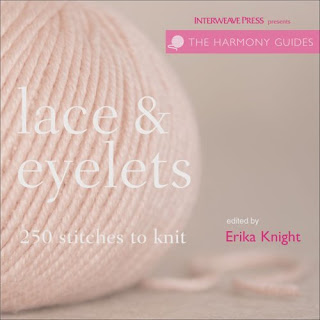 Speaking of lace, this morning I woke up super early and couldn't get back to sleep, so I trudged over to the bookcase to find a knitting book to browse. Low and behold, Lace & Eyelets jumped out at me. I forgot I had this book! I bought it a few months ago at a used bookstore and never got around to reading it. It felt like some sort of kind-hearted knitting fairy had left me a gift.



Yesterday while surfing around the Internet I learned about Knitzvah and I'm so inspired. Over the course of a year, volunteers at the Jewish Community Center in my area knit 2,000 items for distribution to children's shelters, hospitals, and refugees. It turns out there are Knitzvah groups all over the country doing this. The word "knitzvah" is a play on "mitzvah." In the Jewish tradition, a mitzvah is a commandment from God and also a general term for a kind deed.

I've enjoyed knitting for charity ever since I learned about it years ago from my friend Dogwood and often wish I could start my own organization to help low-income mothers. One idea is to match an expecting mother with a volunteer who knits for the baby during the term of the pregnancy. I think many knitters (including myself) would like to know their knitting is going to a specific family and be able to hold that family in our thoughts while knitting for them. Another idea is to hold free classes for low-income mothers so they can learn to knit for their own babies, and offer free yarn donated by organizations and individuals. Maybe some day ...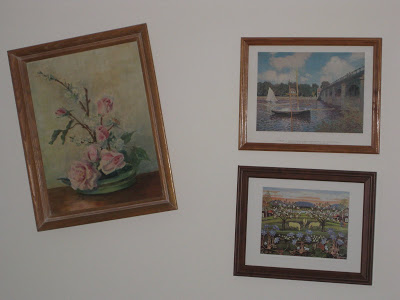 In not-so-knitty news, I think my home is haunted. Last night when I went to sleep, everything was in order. When I woke up, a painting in the living room was mysteriously askew. Other weird things have been happening, too. A roll of toilet paper self-destructed while I was at work. Small kitchen items have been disappearing, only to reappear in the cat bed.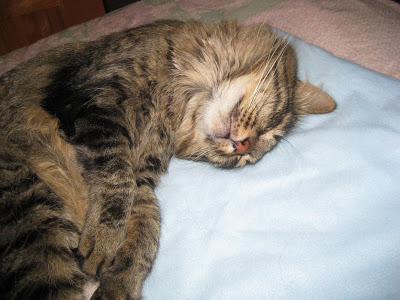 It couldn't be the hijinks of this guy. He's an angel.