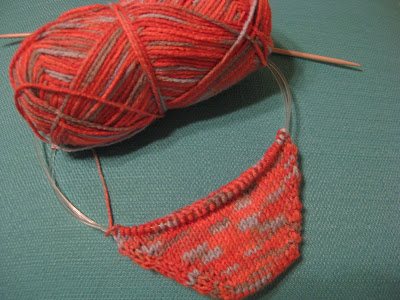 Now I understand why sock knitting is addictive. I've only made a smidgen of sock, and I'm already looking at patterns for my next pair and scoping out the sock yarn at my local knitting store. There is something so satisfying about it.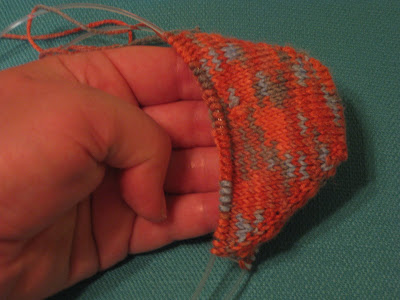 The class I'm taking is for toe-up socks knit on two pairs of circular needles. Things didn't start out well. I think I'm the least experienced knitter in the class and had such a hard time in the beginning that at one point I considered giving up. The first step was a
Turkish Cast-on
, and I was still struggling with it after everyone else in the class moved on to the next step. I've always found it challenging to learn in a group setting and do much better alone in a quiet room with written instructions. In a group I quickly get overwhelmed and flustered, and my mind goes blank. So I struggled through the first hour of the class, but finally figured out the cast-on after about ten tries. As it turns out, it's not hard to do. It was just new and took some time to wrap my head around it.

Next week we start on the heel, which will involve short rows. Gulp. If I can find the time, I might practice a bit before the class so I'll have a better chance of keeping up with everyone else.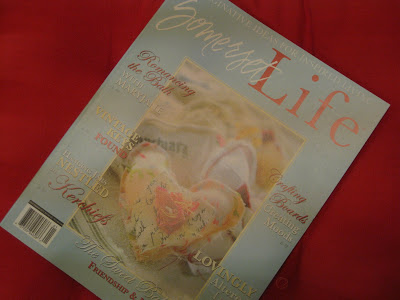 After the class I sat on my couch for hours and worked on my smidge. It was so relaxing ... no television, no music, just blessed silence and busy hands working away with needles and yarn. Before bed I browsed through the latest issue of Somerset Life. I bought it because Kellie Rae Roberts mentioned on her blog that she'd written an article about friendship and intimacy. It was really good. There is also an excellent letter from the editor, Jenny Doh, about the importance of compassion and awareness of others. So touching.