It's wet and chilly here in Northern California this evening, but I'm sitting in my apartment with all of the doors and windows open trying to rid the place of the lovely odor of burned chocolate croissant. I meant to put it in the microwave for 12 seconds, but accidentally set it for minutes. No chocolate for me tonight.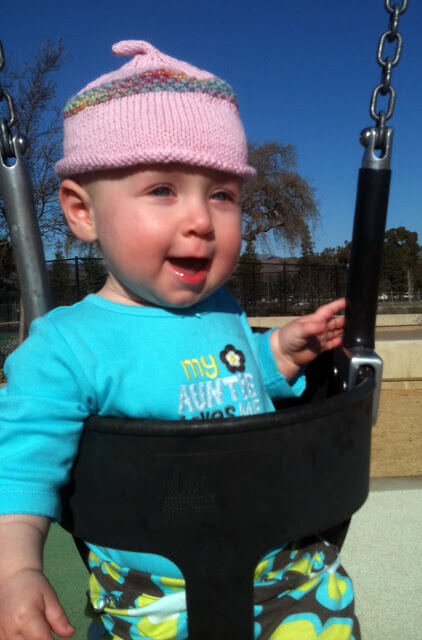 Last week I took my niece Lily to a park for the first time. My sister Hil, Lily's mom, told me that Lily loves the toddler swings, and she wasn't kidding. I was overwhelmed with emotion watching the happy look on her face as I pushed her back and forth.
I knit that
pink hat
before Lily was born, about a year ago, and never cared for it. In fact, I deleted it from my Ravelry project page so I wouldn't have to see it again (forgot to delete it from my blog). But I happened to find it in the pocket of her stroller when we were at the park and lo and behold, it's actually kind of cute.
I finally came to a decision on what to knit for Lily with the Debbie Bliss Cashmerino I bought at the Stitches market last weekend-- this
matinee jacket
from one of my favorite knitting books,
Vintage Knits for Modern Babies
. I've completed a few inches of the back, and so far so good.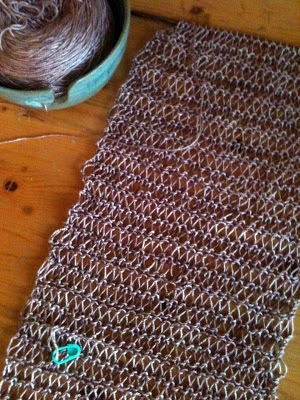 Another project I'm working on is this silk scarf for myself. I first
wrote about it
back in January, but have since frogged it and changed to a drop stitch pattern. It's slow going, but I'm plugging away. I thought that stitch on the holder was dropped and wasn't sure how I was going to fix it, but it was just loose, thank goodness. Must have caught on something.
I'm so sad that
Picnik.com
is going away in April. I use it to edit all of my photos before posting them and love how easy it is to use. It's great for reducing the size of your photos and brightening them up. I guess I'll have to learn how to use Picasa.
If you are a Downton Abbey fan and are having withdrawals, Anna at
Thimbleanna
has posted a list of suggestions from her readers that might help fill the void until season three begins. I want to suggest one more that isn't on the list-- Masterpiece's
Sense and Sensibility
from 2009. I like it better than the older version with Emma Thompson and Hugh Grant because the cast is younger and fit their parts better. In the new one Dan Stevens (Matthew Crawley from Downton Abbey) plays Edward Ferrars, and he is yummy with those gorgeous blue eyes.
Hope you are having a good week. We completed a big project at work this week, so I am taking Friday off to
celebrate
recover.