The invariable mark of wisdom is to see the miraculous in the common.
-Ralph Waldo Emerson
This is Athena, a Eurasian Eagle Owl. I met her over the holidays when Hil, Lily and I visited the San Francisco Zoo. She is from Austria and was
smuggled in to this country
back in 2005 by a man who dyed 12 Eurasian Owl eggs to look like Easter eggs in order to get them past customs. It didn't work and the man went to Federal prison. Only three of the owlets survived, and Athena is one of them. She is huge and absolutely beautiful.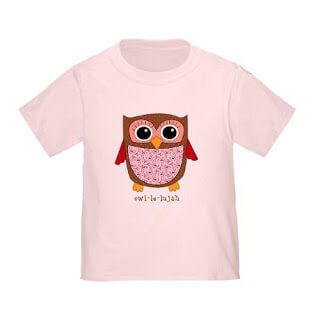 I can't explain why I am so drawn to owls, but I do know that it started over a decade ago when I used to see Great Horned Owls in the treetops on hikes near my home, which I wrote about
here
.
My obsession hasn't diminished over the years, and the recent popularity of owls is definitely helping to feed it. I love buying my niece Lily owl-themed toys and clothes, like this
cute little shirt
I just ordered for her from Cafe Press.
I really am still knitting and will write about that soon.
Stacy
xxoo