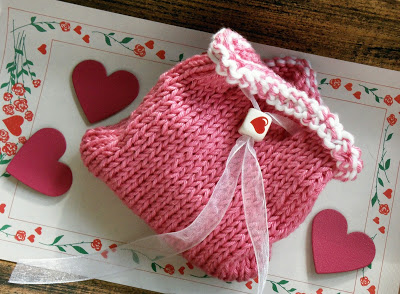 About five years ago I went through a mini-drawstring bag phase. Only five inches in height and knit in the round on tiny circular needles, they were addictive. I gave them to family and friends as gifts. I sold them at the flea market (or at least tried to). I knit them in funky colors, like green and yellow tweed, and stuffed them in my dresser drawer. I didn't have a job at the time but wasn't too concerned about money because I sensed a MacArthur's genius grant was right around the corner for brilliancy in mini-drawstring bags.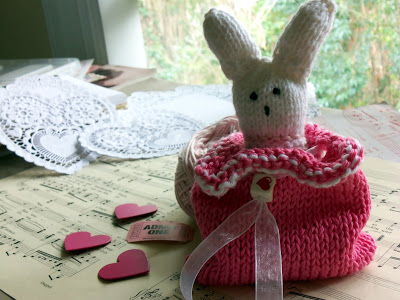 Eventually I grew so tired of them that I couldn't bear the thought of knitting another one ... until recently. With Valentine's Day right around the corner, the urge to knit a mini-drawstring bag returned, a bright pink one that I could fill with candy.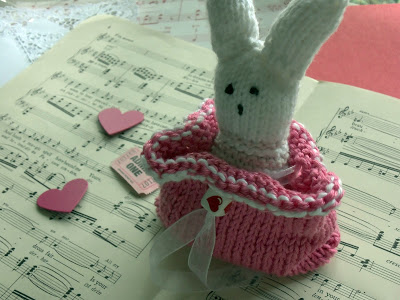 Unfortunately, I ate all the candy before I could get a picture, so I filled it with a
soft bunny
instead.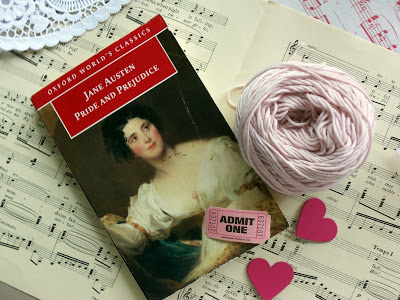 I'm having a sweet Valentine's weekend. Lots of chocolate (dark with almonds and sea salt is my favorite), naps, crafting, and a viewing of the BBC version of Pride and Prejudice.
Happy Valentine's Day to you.