Did you have a happy Halloween? I didn't get any trick or treaters, as usual, so I'm working on polishing off the bowl of Tootsie Pops and miniature Hershey bars by myself. Poor, poor, me.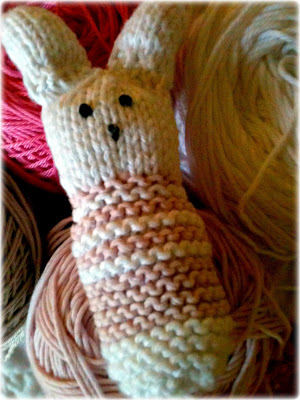 Last Sunday I took time out from my two big knitting projects to make this little bunny from the book
Vintage Knits for Modern Babies
. Love, love, love that book. It's where the pattern for the
crossover jacket
came from.
The bunny only took an afternoon to knit, which is one reason I wanted to knit it. It's going to be a while before the blanket and sweater I am working on are done, and I really needed some knitstant gratification.
The funny thing is, it almost took me longer to embroider the french knot eyes and nose than it did to knit the entire bunny. I checked out three different embroidery tutorials and just couldn't get it. Finally I came up with my own funky way of making the knot that sort of worked.