Both of my sisters and my mom have been Food Network fans for a while now, but I never understood what all of the fuss was about. Now I'm hooked. It all started with
Cupcake Wars
a few months ago, but the show that really got me hooked is
Chopped
.

Do you ever watch it? Guest chefs compete in three rounds to make an appetizer, entree, and dessert using mystery ingredients they find out about a few seconds before they have to start cooking. The ingredients are things that don't go well together and they get very little time to make each dish.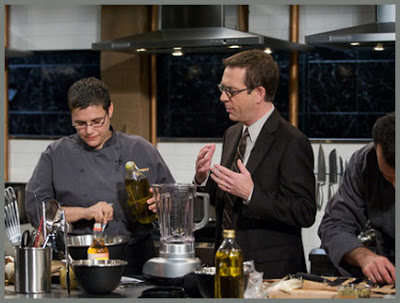 It is tense watching the chefs figure out how to make dishes with ingredients like sardines, watermelon, and pepper jack cheese, and fascinating to see what they come up with. The judges taste their meals and then select one chef to get rid of for each round with a blunt, "You've been chopped." I played Chopped in my own kitchen last Sunday night and ended up with cheddar cheese and potato soup and a dish with Asian vegetables and cold salmon patties. If I had been on the show I would have been chopped the first round. It was that awful.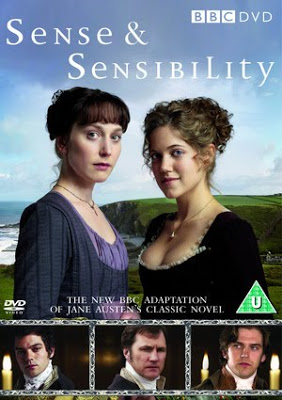 Last week I watched a Masterpiece Theater production of
Sense & Sensibility
that aired in 2009. Oh, it was so good! I love the one with Emma Thompson and Kate Winslet that came out about fifteen years ago, but I like this newer one even more. It's a mini-series, so the running time is longer and the casting is just perfect. I want to buy the DVD.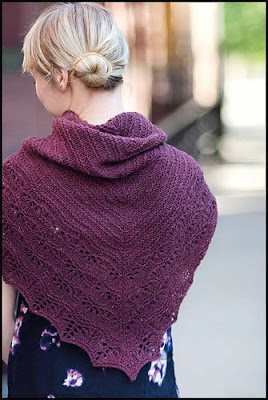 Have you ever checked out knitwear designer Jared Flood's blog,
Brooklyn Tweed
? He is a major talent, and although I've never tried any of his patterns, it's fun to just go to his blog and drool over the gorgeous photos of his work. I love his latest design, a triangular shawl called
Terra
. He calls the lace section an "undulating cousin-stitch of Feather-and-Fan lace motifs." Be still my heart.
So that's a few things I'm in love with this week. I'm working on a new scarf that I want to show you but might not be back until next week because of the move. Hope you have a wonderful week.