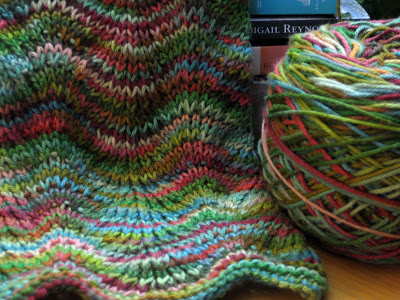 My knitting has slowed down considerably since the weather warmed up. One item on the needles is this
Apple Tree Scarf
(link to Ravelry). It is knit in a chevron pattern, and I've been thinking about frogging it because the sides curl too much, in spite of the selvage stitches. But I'm going to think about it some more before I do anything drastic.
Still working on my
Multnomah shawl
(another Ravelry link). I'm up to 200 stitches and almost ready to start working on the lace section. It's an enjoyable pattern. This is the best I could do for a photo because it's all scrunched up on circular needles. I wish you could see how pretty the colors actually are.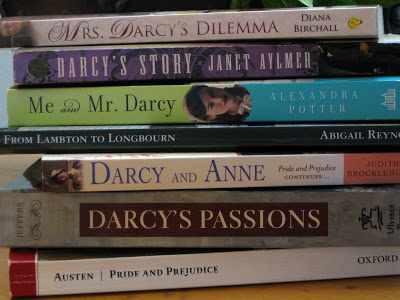 I'm having a great time reading
Pride & Prejudice
sequels and adaptations. There are SO many out there, and they range from extremely dull to extremely raunchy. One of my favorites so far is
Suspense & Sensibility
by Carrie Bebris. It is the second in a series of Regency mystery novels featuring the Darcy's, and this one in particular also has characters from
Sense & Sensibility
. (It also has a supernatural element, so if that is not your bag you might not like the first couple of books in the series.) I picked up three more in the series at the library this evening and can't wait to read them this weekend.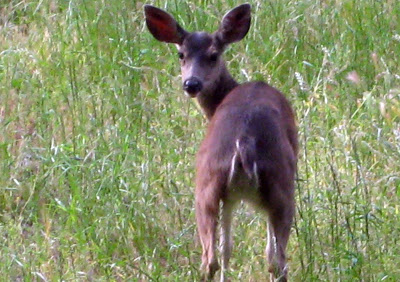 On Monday I got out and hiked in the hills near my home. It felt so good! I had to move very slowly because I'm not used to walking uphill anymore, but it was easier than expected. There were a few quail out and about, along with lots of little brown birds that I couldn't identify. I thought I heard an owl hooting in a small valley, but it might have been kids playing around and I was too tired to go up an incline to check it out. This deer greeted me at the end of the hike. I'm hoping to go back this weekend if it isn't too hot.
What are your weekend plans? I would love to know.