Thank you everyone for your nice words about my last "
This Moment
" photo. A few people asked what Lily is wrapped in-- it's the
Forest Canopy
shawl I knit a few years ago. Some day I hope to give it to her, if she wants it. It's special to me because it's the first lace shawl I ever knit.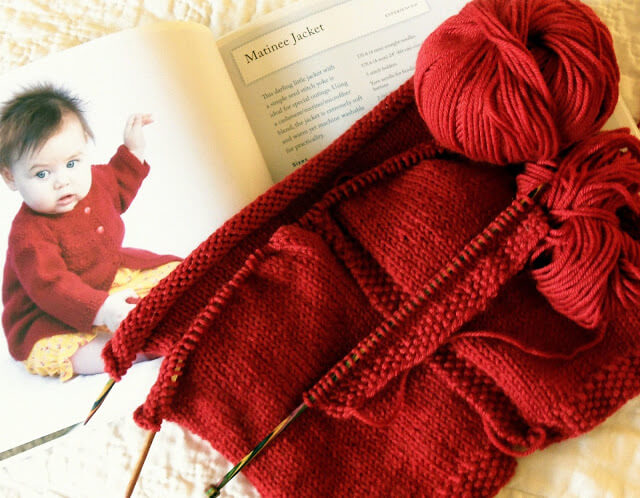 Square pieces of red are piling up for the matinee jacket. It's such an enjoyable knit. I'm working on sleeves now, and it won't be long before I'm putting the pieces together. Wish me luck!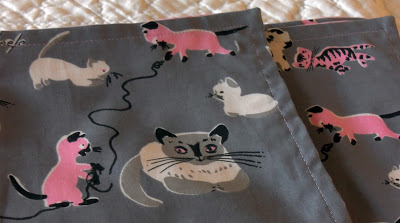 I saw so many cute things made with fabric at Stitches West a few weeks ago that I became obsessed with finding cloth napkins to buy on Etsy. These kittens from
Cottage Daydreams
seemed perfect. I'm not sure if I will keep them for myself or give them away as a gift.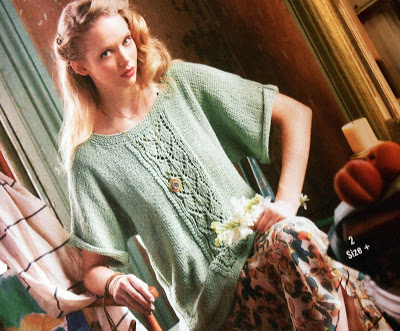 Photo from Vogue Knitting, Spring/Summer 2012
Last night while laying in bed and browsing the latest issue of Vogue Knits, this oversized pullover caught my eye. After studying the pattern I decided I actually have the skills to knit it (we'll see). The yarn is a cotton/soy blend called
Soja
, which I've never seen or heard of, so I ordered one ball online to make sure it is soft enough for my skin and easy enough for my fingers to knit with. If it passes those two tests, I think I'm going to make it.