Thanks everyone for the vintage hand towel love. There are several reasons I don't care for it --the pattern got really dull toward the end, my hands ached from knitting with two strands of cotton, and the variegated yarn looked prettier in a ball than it did knit. I'll never knit one of those again.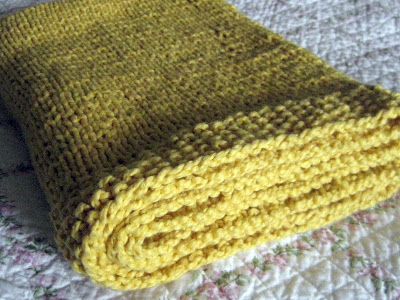 The yellow Bunny Love Blanket is done. Now this I like. It's my first blanket, full of holes and lumps and other boo-boo's, but that just makes it all the more endearing. I knit it for my niece who is due to arrive in June, but I may not be able to let it go. Perhaps she can just cuddle up in it when she comes to visit me. (Sorry, sis.)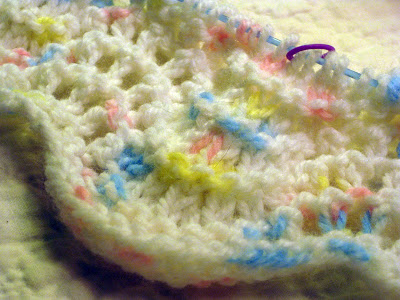 I started a new knitting project that must remain a mystery because it's a gift. Here is a little glimpse. It's weird to knit with wool again after working with cotton the last few projects. I forgot how beautifully wool knits up.
I took a little break from blogging last week but now I'm back and will come and visit you. Hope you enjoy your weekend.