Last weekend I went camping for the first time in 14 years. The ocean was a five minute walk from the campground, and we could hear the lapping of waves at night. One day I walked down to the beach and sat for a couple hours staring at the water. My life has been extremely busy and exhausting the last several weeks, and I needed to just sit and let my mind wander without trying to accomplish anything. There was no one around except me and the wind, and I found myself spontaneously singing a Tibetan Buddhist chant, "Om Mani Padme", which means the jewel in the lotus. Suddenly I remembered that I had my MP3 player in my backpack, and that particular song was on it. Within a few minutes I was playing, splashing, and dancing in the water accompanied by Om Mani Padme.

I turned 44 years old earlier this week. It was very much a bird birthday! I received many owl- and bird-themed gifts, like an owl towel from
Cory
, owl bandages and a bird calendar from
Hilary
. Aren't those bandages a hoot? (Sorry, I couldn't resist.) While camping, my family surprised me one evening with a chocolate cake and candles. They sang happy birthday and spoiled me with presents. I was a happy camper. Another birthday treat occurred later in the week when my co-workers took me out to lunch at Applebee's and the waitress sang happy birthday to me in Italian. It was gorgeous.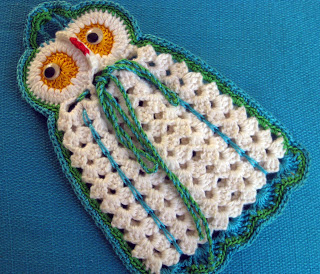 A sweet blogger friend sent me a package of bird goodies in the mail for my birthday, including this vintage crocheted owl. Isn't it adorable? I'm still trying to decide where to hang it.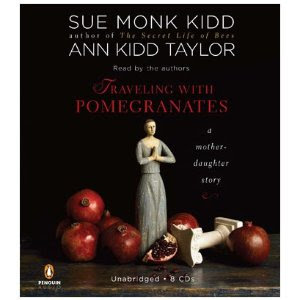 I'm listening to the audio book
Traveling with Pomegranates
by Sue Monk Kidd and her daughter Ann. Sue is the author of
The Secret Life of Bees
. The book is a memoir of her and Ann's journey to Greece as Sue struggles with her upcoming 50th birthday and Ann deals with depression over the loss of a dream. It is also about mothers and daughters and there is a strong spiritual theme. It's a little slow, but rich and textured and inspired.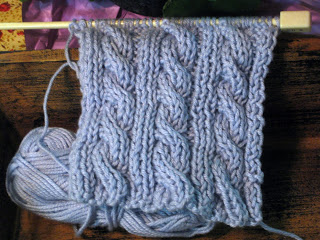 I'm working on a reversible cable scarf in a soft cotton and silk blend
yarn
. Cables are still a bit of a novelty, and although this pattern is quite simple, I'm enjoying it very much. I've been wanting to knit a cabled scarf ever since I saw
Cinder
over at Brooklyn Tweed.
Hope you enjoy the Labor Day weekend.