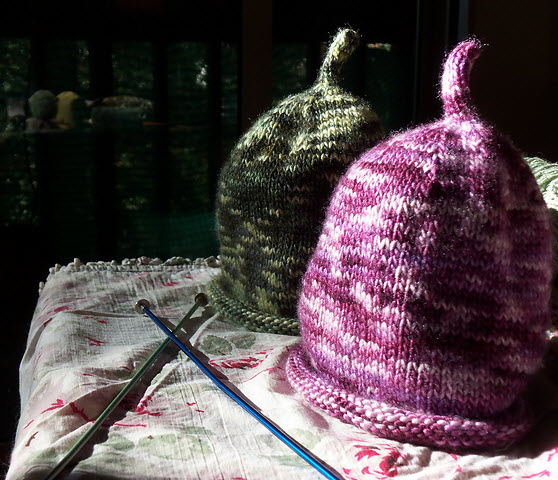 When I first learned to knit, which has been about eight years now, I made
tons
of baby hats. It was good practice for learning how to purl and how to sew seams. Since I had no babies in my life, I ended up donating them to Planned Parenthood and my county hospital. I had little patience for finishing knitting projects, so they ended up being teeny tiny little hats that could be completed in a day or two. I'm not sure if the folks I donated them to ever passed them on to new mothers or just shook their head and discreetly tossed them in the bin.
My skills in hat knitting have improved a bit since then-- I can spend more than a couple day knitting a hat without abandoning it. These two hats are for my co-worker, who is pregnant with twins. The pattern is a simple one that is knit flat and seamed up. While I have knit a couple hats in the round in the past, I still prefer the two-needle method. I love the little stems on top of these hats.
The yarn is
Malabrigo Silky Merino
, which is my new favorite. It is like soft, fluffy clouds in your hands and knits up like a dream. Each hat takes less than one skein, and there might even be enough left for a pair of matching booties.
The pattern was given to me by a friend. I tried to find a similar one online that I can link to, but to my surprise I couldn't find one. The closest I could find is
here
and
here
.
I might make some modifications to the pattern that I used and post it in a week or two.