The assignment for day three of
Knitting and Crochet Blog Week
is to write about someone in fiber crafts that inspires you.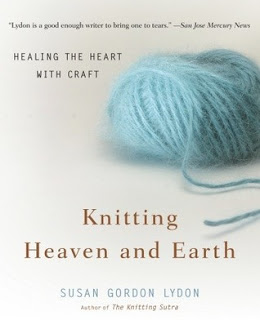 "Knitting is where I give the wild woman inside of me free rein. If she wants to be the wise woman as well, that's fine; if not, also fine. I no longer care that my kitchen cupboards are stuffed with yarn, and my closets with half-finished projects ... At this point in my life I say: Judge me if you dare."
- Susan Gordon Lydon,
Knitting Heaven and Earth
.
One of my heroes is Susan Gordon Lydon, author of
Knitting Heaven and Earth,
which I credit for making me fall in love with knitting. It is a deeply spiritual, moving book about Susan's love of knitting and how it was almost like a wise, supportive companion accompanying her on a journey of love and loss. Her writing is beyond superb; this is one of the few books I've read multiple times and plan to read again and again.
Susan was one of the founding editors of Rolling Stone magazine and the author of
The Knitting Sutra
and
Take the Long Way Home.
She died from cancer in 2005, the same year
Knitting Heaven and Earth
was published. To read more about Susan's accomplishments, her colorful life, and the challenges she faced, see this article from
SFGate
.