I forgot to tell you an important detail about my trip to Napa last weekend. Coincidentally, across the street from the hotel was a yarn shop-- a
really
nice yarn shop. (Also across the street was a candy store, and that's where most of my vacation pocket money went ... yarn and chocolate.)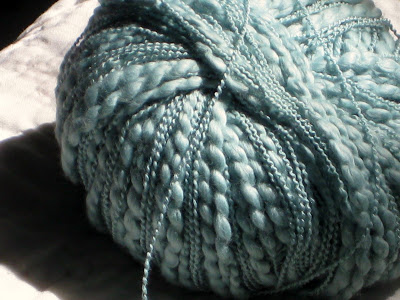 When I walked in the store, I was immediately drawn to this Katia yarn called Temis and ended up buying two balls. It wasn't until I started knitting with it later that afternoon that I realized I had
worked with it a couple years ago
. I guess my tastes haven't changed. I love the variations in weight and texture.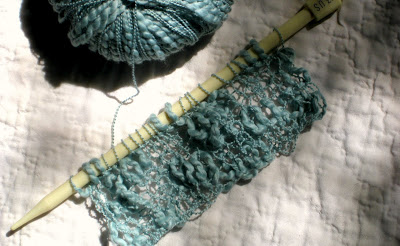 When my mom saw me knitting with it she expressed how much she liked it, so I decided to knit her a scarf for Mother's Day. I just started it today, but wanted to show you how interesting it looks when knit. I'm using size US 13 needles on a 2x2 rib.


Please forgive the shadowy and dappled photos. I took them out on the patio because I don't want to miss a minute of this nice spring weather we are finally having.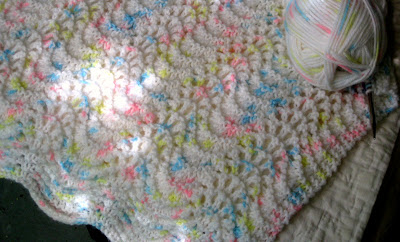 This is the mystery project I've been working on. It's a baby blanket that I have been trying to finish before my sister's shower in a couple weeks, but I realized today that I just can't get it done. (I was also trying to keep it a secret, but I gave up on that, too.) That's okay, I'll give her the
yellow blanket
and save this one for the holidays. It's a feather and fan pattern on worsted weight.
I want to give a special shout out to Stephanie of
Tiny Owl Knits
for donating two patterns to give away to my Ravelry
group
. If you haven't seen her designs, you are in for a real treat.