I know, I know. I have no right to complain. I live in an area of California where you can pretty much wear a long sleeve sweater all winter long and never get too terribly chilly. But ... it's cold today! In my apartment, anyway. It might be warmer outside than it is in here. I closed off the rooms I'm not using, turned on the expensive wall heater, and I have a heating pad on my back and a cat on my feet, but dang it's cold.
Brrrr.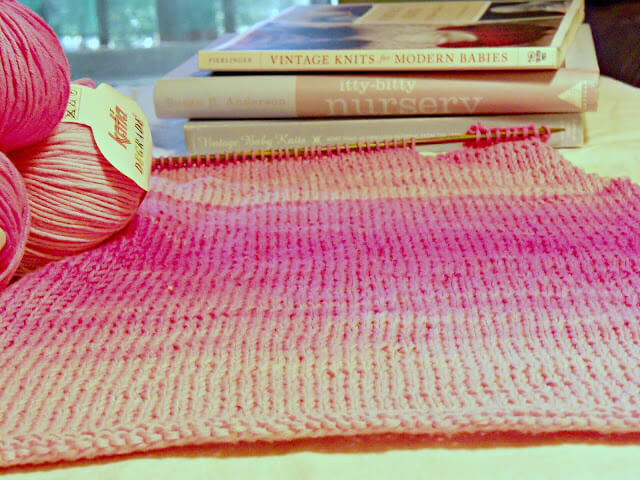 Wow, you can really see how uneven my stitches are in this pic. Shouldn't I be better by now? I'm going to blame it on poor lighting.
Now that I've complained about the chill, I'll admit it does make me want to sit and knit. I'm making good progress on the pink
apron dress
, which I'm knitting with
Katia Degrade
. I love the long color segments and gradation of tone.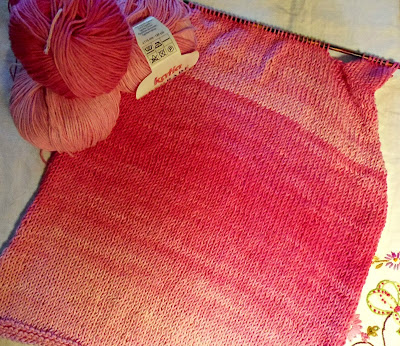 The abrupt change from dark to light at the top is where I added a new ball. The contrast is intentional.
Would you like to win an iPad Mini? I sure would.
Cooperative Press
, a publisher of knitting books (and other types of books), is giving one away along with several other prizes. You can find out more about the contest
HERE
.
If you are having trouble uploading photos in your Blogger, I found a workaround by clicking on the HTML tab while composing the blog post. It is located just above the box where you enter the post text. There are two tabs-- one says "Compose" and the other says "HTML." If you click on HTML you will see your post in HTML code, but you can then click on the image icon and upload a photo from your computer. Then you can click on "Compose" and finish writing it without viewing the HTML.
Hope you are enjoying your Sunday. Have a great week! I'm off to make deviled eggs and maybe turn up that wall heater. Downton Abbey tonight. Woo hoo!