Just some light knitting going on here. I'm working on this scarf in a pattern I made up that uses several different types of stitches.
I started knitting it in
Vita
, a blend of recycled cotton and cashmere, but ran out of it and decided to finish with a skein of
Mulberry
silk in my stash. I don't know who the scarf is for, which usually leads to a lack of motivation to finish it, but the variety of stitches is keeping it interesting. There is something about seed stitch that I love so much.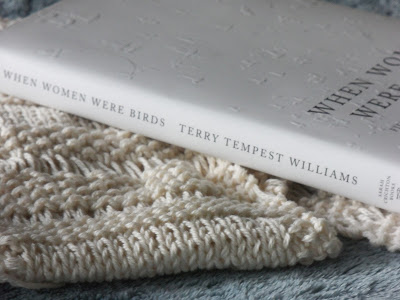 I went to a real bookstore and bought a few real books recently, which was a nice change from e-books, which just don't hold that same magic. Plus it felt good to support an independent bookstore in my neighborhood. Just finished reading
When Women Were Birds
, a beautiful non-fiction book from author and conservationist Terry Tempest Williams.
Before Terry's mother passed away, she gave her daughter instructions on where to find her journals and asked Terry to read them after she was gone. When Terry sat down to read them, she found every single one of her mother's journal was blank. It broke her heart, and this short, wise book is a reflection on why her very spiritual and loving mother would have done that.
Are you reading anything good right now?